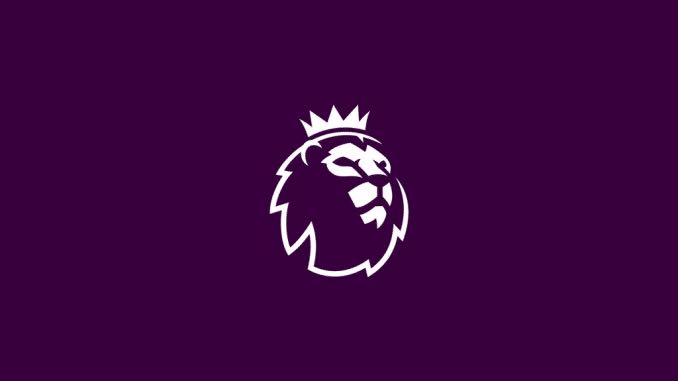 FOOTBALL IS BACK!! The Premier League is officially back this week and there were some absolute scenes in the competition. This series of articles would take you through every single Premier league action and point out what we learned from each game, sit back and let us carry you to England.
                                                                                                                                                                                             
Fulham vs Arsenal: 0-3
New Gunners Shine
There are clear signs of improvement under Arsenal's manager Mikel Arteta last season, with the gunners showing a new defensive solidity and looking confident at going forward. 
Arsenal's summer transfer window led to the arrival of Willian from Chelsea, Gabriel Magalhães from Lille who produced an instant impact for their new employers. Former Chelsea winger Willian had a hand in all three goals and Gabriel who joined the gunners for 23 million – scored in his first game in English football. 
A similar Scott's side
For the first game of the new Premier League season, Scott Parker fielded a familiar lineup–nearly identical to the one fielded against Brentford in the Sky Bet Championship play-off final last season. Parker's decision appears to be a show of trust in his current squad, with his team properly equipped for a relegation battle this season.
Scott Parker's decision to stick with his players from last season is a completely different strategy compared to Slaviša Jokanović's two years ago, who instead opted for a completely foreign starting XI composed of new transfers. 
There is a great possibility that Parker is preferring players from last season due to their experience in the Premier League two years ago, and are aware that Fulham is going to battle against relegation all season. Compared to the rather ambitious players that were brought in before the start of the 2018-2019 season, which led to a rapid decline in the league standings for the club from the very beginning. 
Defensive Help Or Relegation Looms
Fulham were relegated in each of their past two Premier League seasons, in 2013-2014 and 2018-2019 – conceding most goals in the division both times. The last time they were promoted the Cottagers spent more than 100 million euros and played a new-look team who later had a miserable season before being downgraded to the Championship. 
Fulham will hope not many of their games are as tough as playing in-form Arsenal, but there are signs that this could be another leaky season at the back. The opening goal came from an individual mistake, the American Tim Ream blocked Granit Xhaka's shot and should have cleared the ball, but he let Willian shoot, which later led to a Lacazette's goal. 
With the new signing of Dutch right-back Kenny Tete from Olympique Lyonnais and Alphonse Areola as a loanee from French powerhouse Paris Saint-Germain, the cottagers showed serious intent of bolstering their defence, a critical part to the whole system which will ultimately decide the fate of the Southwest London side.
MAN OF THE MATCH: WILLIAN
                                                                                                                                                                                            
Southampton vs Crystal Palace: 0–1
Zaha hits to set Eagles flying 
Wilfred Zaha, the Ivorian forward, who has repeatedly been linked with a move away from Selhurst Park was clinical once more for the eagle in Palace's season opener. Unmarked when he produced a clinical finish from Andros Townsend's impressive cross as his goal brought three points to the South London side. Zaha's performance was superb as the Ivorian caused countless troubles for the Saint's defence, including one piercing run to pass Jack Stephens but his finish wasn't accurate to hit the target.
Well use of VAR
It could have been worse for the visitors. There appeared to be no malicious intent as Walker-Peters clashed with Mitchell as the latter was in the air. The referee Jonathan Moss reached for his pocket to deliver a red card to the Saints' right-back, before downgrading the decision to a yellow with the aid of VAR. "It was excellent from the referee," said former England keeper Rob Green, who was at Selhurst Park for BBC Radio 5 Live. "The referee made the wrong decision and he went over, had a look and no one batted an eyelid when he changed it." The use of VAR last season caused numerous outrage and controversies as the referees nonchalantly were not willing to watch the replay of potentially serious fouls and incidents. Johnathan Moss's decision of going over to the side to view the monitor in order to confirm his decision is a step-up and should be encouraged in the Premier League referee community.
Guaita superb
Despite Southampton's relentless attacks against Crystal Palace's goal, Guaita, the Eagles' goalkeeper, was unperturbed. The Spanish goalkeeper produced 2 outstanding point-blank range saves in a total of 5 to deny Saints' front two consisting of Danny Ings and Che Adams from scoring. Southampton were much in control over the whole 90 minutes, having more shots attempted and on goal than the Eagles. However, Guaita's performance made sure the lead made by Wilfred Zaha stayed intact.
MAN OF THE MATCH: VICENTE GUAITA
                                                                                                                                                                                            
Liverpool vs Leeds United: 4–3
Brand new season, Same old Salah
Liverpool entertained Leeds United during the season opener at Anfield in the hopes of defending the Premier league title. It was another master-show from the Egyptian wing wizard from day 1. Deadly in front goal as he converted two penalties and scored the other goal with a sumptuous finish to pass Meslier. It was a nearly perfect display from Liverpool's no.11 as the reds triumph over the white rose.
The white rose that never says die
The doubters can sit down if they thought Leeds United were incapable of competing in the Premier League. It was a tactical masterclass from the Argentine manager, high press, fast-paced football to make Liverpool defences tingle in fear during the game. Comparatively, Leeds United's players were more focused and determined to challenge the champions in the first game. The white rose led two times in the game but they were denied by the brilliant Mohamed Salah, whose hattrick sunk Leeds' hope of winning the season opener.
The red's title needs better defence to defend
Liverpool has to solve its defence inconsistency if Jurgen's Liverpool are planning to have a repeat of last season's domestic success. In particular, the partnership of Virgil Van Dijk and Joe Gomez were shaky at best during some points of the game. Jurgen Klopp should be worried about his team's defence as too many Leeds players were able to penetrate the backline of the European giants. If this was a game against one of England's top sides, no disrespect to Leeds, such as both Manchester clubs, Liverpool could have been in great trouble. 
Seven-goal thriller
Be honest, we had high expectations of this premier league season opener, judging by Leed's style of play last year in the championship, and Liverpool's formidable performance last year. Leeds embraced Marcelo Bielsa's doctrine by conducting a high, relentless press and fast-paced attacks. When you combine that with how Jurgen Klopp has his Liverpool side play, you get goals, lots of them. Liverpool are well known for their ability to be lethal in attack. All this provided for the brilliant 7 goals we saw.
MAN OF THE MATCH: MOHAMED SALAH
                                                                                                                                                                                            
West Ham United vs Newcastle United: 0-2
Magpies debutants' evening
Newcastle United's manager Steve Bruce was delighted to see the Magpies' owner Mark Ashley "flex his muscle" with the summer signings of England, Northern Ireland, Scotland, and Ireland's international Callum Wilson, Jamal Lewis, Ryan Fraser, and Jeff Hendrick. Even pleasingly for Steve Bruce, Wilson, Lewis, and Hendrick all made an immediate impression for their new clubs.  
Goals from Hendrick and Wilson secured three points for Newcastle United in the Olympic Park as they won their opening game for the first game since 2012. 
Familiar Hammers lost deservedly
Where do we start with West Ham United? As of matchday 1, they are sitting in the relegation place after the opening rounds of fixtures in each of the past three seasons. Despite this defeat not as humbling as their defeat against both Manchester clubs and Liverpool, it highlighted the need for manager David Moyes to bring in reinforcements. 
Young winger Grady Diangana was sold controversially during the summer, and three of the Hammer's most expensive players, including the club-record signing Sebastian Haller, started as substitutes. While Andriy Yarmolenko, Felipe Anderson, and Haller all came off the bench, there was little suggestion that West Ham United, with only three shots on target, were going to mount a comeback.
MAN OF THE MATCH: CALLUM WILSON
                                                                                                                                                                                            
West Bromwich Albion vs Leicester City: 0–3
Goalless Baggies
When West Brom went down three seasons ago, their measly 31 goals was its major reason. Having spent 28 million on three new attackers, all of whom joined the club on a permanent basis after impressing during the club's promotion season. Therefore, the expectations around Matheus Pereira, Callum Robinson, and Grady Diangana are high. There were movements and promising attacks from the three of them but it only translated into one shot on target. No doubt, West Brom's season will be troublesome without greater goal threats. The defeat at The Hawthorns is a tough reminder and wakener for the Baggies that without developments, its goal of fighting relegation would be extremely challenging.
Brand new season, Same old Vardy
The 2019/2020 season top scorer Jamie Vardy scored two penalties in the second half to condemn West Brom to a disappointing return to the Premier League, as the England international secured the biggest away win for Leicester City since New Year's Day. Brendan Rogers praises the Leicester talisman "Any team would want him. He's super cool, clinical, still has pace and running ability, he's a box player. He'll never be dropping underneath with bright intricate play but he's a killer in the box. Whether from a cross or penalty he's got the eye to score. He never looked like missing." 
The eye-catching debutant
It was a good day for manager Brendan Rodgers, and even a better day for the Foxes' newcomer Timothy Castagne. The Belgian right-back joined the foxes for 21 million Euros in the summer transfer window after successful successive campaigns with the Italian team Atalanta. The Belgian International did not hide his serious attacking intent from day one, bagging his first goal for Leicester City with a well-placed header beyond the West Brom goalkeeper Sam Johnstone in the second half.
The arrival of Timothy Castagne would install competitions in the right-back position for Leicester City as they search for a ticket into next year's Champions League.
MAN OF THE MATCH: JAMIE VARDY
                                                                                                                                                                                            
Tottenham Hotspur vs Everton: 0–1
Toffees win in style
The toffees played their first game with their new-look side and they did not disappoint. Dominic Calvert-Lewin gave the Spurs goalkeeper Hugo Lloris no chance after getting between Toby Aldeweirld and Eric Dier to meet Lucas Digne's in-swinging free kick, his goal gave Everton their first victory over Tottenham Hotspur's since 2012. 
New midfield trio shines
After Everton's disappointing 12th place finish last season, their lowest position since 2003-2004, the manager Carlo Ancelotti has embarked on an ambitious rebuilding job, targeting specifically the midfield. The arrival of James Rodriguez, Allan, and Doucoure were to provide the creativity and energy in the engine room – and all three gave Ancelotti huge encouragement for the new season. 
James Rodriguez, in particular, stood out, with his passing ability. Everton's signing from Real Madrid created a total of five chances for his new team-mates, the most by a player on their Premier League debut since ex-Arsenal forward Alexis Sanchez in 2014.
The Toffees could – and should – have won by a more handsome margin against a static Tottenham Hotspur that lacked creativity. Besides James Rodriguez's brilliant debut display, other new-comers such as Allan were calm and composed as Everton looked rejuvenated after a poor 2019-2020.
Tottenham's defence's woe
Tottenham tries to bolster their defence during the summer by signing the Irish right-back Matt Doherty from Wolverhampton Wanderers. However, the Irishman's defence ability is roughly limited and could be found by mismarking opponents outside the box. 
With the sale of Belgian centre-back Jan Vertonghen to the Portuguese giant Benfica, there seems to be a lack of quality of centre-backs in the Spurs side. The problem was shown clearly by the Spurs lineup, Tottenham's boss Jose Mourinho played the midfielder Eric Dier at centre-back position against Everton, keeping Colombian Davinson Sanchez on the bench. Spurs's porous defence was made worse by the lack of world-class players and the aging Toby Alderweireld as the Belgian centre-back turns 32 in March, and is way beyond his prime. 
MAN OF THE MATCH: JAMES RODRIGUEZ
                                                                                                                                                                                            
Sheffield United vs Wolves: 0-2
Wolves' wolfpack attack
Nuno Espirito Santo's Wolves demonstrated that they are capable of competing in high-level competitions for the last two seasons. Going into their third consecutive season in the Premier League after being promoted back in 2018, Wolves started off with an away win to last season's dark horse Sheffield United.
Nuno was delighted as the Portuguese manager extended his contract, keeping him at the club until 2023. Even pleasingly for the Wolves fans, the quick double from Mexican forward Raul Jiminez and Moroccan international Roman Saiss secured the three points for the black country side. 
Rusty blades
It would, as Wilder has rightly pointed out, be very premature to suggest this defeat is an indicator of Sheffield United being destined to fall foul of 'second-season syndrome' but there will be some causes for concern for the Blades boss Chris Wilder. Despite playing four friendlies during pre-season compared to Wolves' none it was the hosts who looked short of sharpness in the first half.
Sheffield United were slow at building up their attacks and lacked composure in the final thirds, and their defence – the backbone of their impressive campaign last season – were struggling at times trying to contain the likes of Adama Traore, Diogo Jota, and Raul Jiminez. The blades were much improved after the break as they pressed Wolves high, while overlapping runs from the fullbacks proved to be useful as Sheffield showed promising signs but were unable to overcome the two-goal deficit.
MATCH OF THE MATCH: ROMAN SAISS
                                                                                                                                                                                            
Brighton & Hove Albion vs Chelsea: 1–3
Anticipated Debuts for Both Sides
Chelsea have spent money like water during the summer transfer window, signing the likes of forward Timo Werner, midfielder Ziyech, Kai Havertz, defender Ben Chilwell, Thiago Silva, and Malang Sarr. Chelsea's season opener saw only Timo Werner and his Germany teammate Kai Havertz make their debut for a side forced to work hard for their win in Monday's game against Brighton. Timo Werner was pacy and prominent as his usual self, winning the 23rd-minute penalty when he was brought down in the box by the Seagull's goalkeeper Mathew Ryan. Brighton lost summer signing Adam Lallana to injury before the break but were able to find an equalizer after 54 minutes when Leandro Trossard's 20-yard bullet thrashes the net beyond the helpless the blue's goalkeeper Kepa Arrizabalaga.
Rusty Chelsea loves three-points
Chelsea manager and legend Frank Lampard would be delighted to leave the South coast with three points after a mixed performance. Lampard got what he wanted though, besides three points, Timo Werner demonstrated his menacing pace as the German international was always on the move and searching spaces behind Brighton's defence. The Chelsea striker has had no trouble adjusting into the tempo of the premier league, and there is no doubt that the German will play a crucial part in the Blues' season.
What can the Seagulls take away?
The defeat to Frank Lampard's team would certainly leave Brighton manager Graham Potter frustrated, but there are promising, encouraging signs from the south coast team. Brighton acquitted themselves well and had the game's outstanding performer, former Chelsea academy graduate right-back Tariq Lamptey, who was industrious and creative in a top-class display.
Saviors to Chelsea's defence?
Chelsea's transfer ban in the previous season proved to be beneficial this season. The blues' owner Roman Abramovich's investment allowed Chelsea to make statement signings in large quantities and qualities. Half of the six new signings were made primarily to solve Chelsea's dull defensive issue as the central London side conceded 54 league goals last term in the premier league but still managed to finish within the top 4 to clinch a Champions League spot. 
The new signing of Leicester City and England left-back Ben Chilwell will prove to be a wise investment, as Chilwell played a crucial role in Brendan Rogers's Leicester city team despite its disappointing finishing of the season. Considered as one of the best in his position due to his consistent performance, Ben Chilwell made 1.59 tackles per 90 minutes, which is impressive from a full back with specifically attacking abilities.
MAN OF THE MATCH: REECE JAMES
                                                                                                                                                                                            
Burnley vs Manchester United: Rescheduled
                                                                                                                                                                                            
Manchester City vs Aston Villa: Rescheduled 
                                                                                                                                                                                            

Premier League table after matchday 1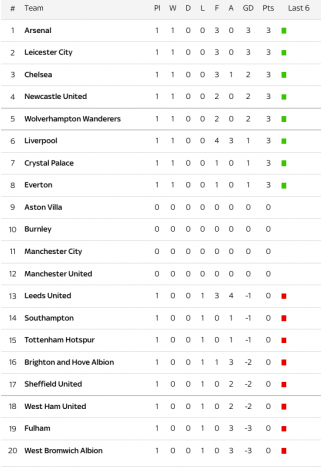 Our Team of the Week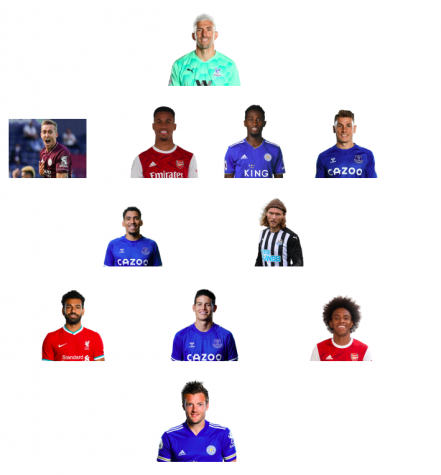 GK: Vicente Guaita (Crystal Palace) RB: Timothy Castagne (Leicester City) CB: Gabriel (Arsenal) Wilfred Ndidi (Leicester City) LB: Lucas Digne (Everton) CDM: Allan (Everton) CM: Jeff Hendrick (Newcastle United) RW: Mohamed Salah CAM: James Rodriguez (Everton) LW: Willian (Arsenal) ST: Jamie Vardy (Leicester City)
Cite source:
https://www.premierleague.com/players/7548/Vicente-Guaita/overview
How Leicester new man Timothy Castagne is ready-made for EPL glory
https://www.premierleague.com/players/50234/Gabriel-Magalhães/overview
https://www.premierleague.com/players/20479/Wilfred-Ndidi/overview
https://www.premierleague.com/players/5758/Lucas-Digne/overview
https://www.premierleague.com/players/15994/Allan/overview
https://www.premierleague.com/players/8586/Jeff-Hendrick/overview
https://www.premierleague.com/players/11300/James-Rodr%C3%ADguez/overview
https://www.premierleague.com/players/5178/Mohamed-Salah/overview
https://www.premierleague.com/players/8979/Jamie-Vardy/overview