Two of the Patriot's core staff members won recognition at Viewpoint's end-of-year awards ceremony.  Co-editors, Barry Yao and Faith Spalding, were recognized for their work on the Patriot, and Barry also received the coveted title of Student of the Year.
The ceremony was held at I-Block on Wednesday in the PFAC.  Students gathered in the bleachers and in folding chairs to hear various teachers speak and give out awards for their respective departments.  The 2022 salutatorian was named, as well as the Bronze recipients of the prestigious Duke of Edinburgh award.  Among those recognized were the Patriot's own, Faith Spalding and Barry Yao, who were commended for their wonderful job leading the paper for the 2021-2022 school year.
The 2022 Student of the Year award, given to a student who has "demonstrated a keen interest in improving the quality of student life at the School", was also awarded to Barry Yao.  When asked what this commendation meant to him, he replied, "I'm very happy that I am the student of the year, but if one really thinks through it, everybody's a student of the year.  It's what Viewpoint is, it is a community filled with viewpoints and differences, it's what makes Viewpoint a great place to live and study.  Each student shapes his/her school experience and I am just happy that I get to be the one people look up to."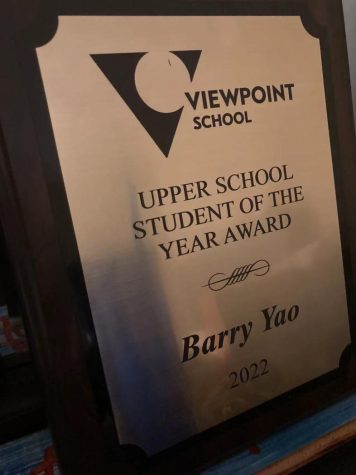 Barry was also recognized for his work on Student Council's Executive Board this year, along with staff member Naomi Engle. Faith received the Viewpoint English award for excellence in the English department. The diligent work of those awarded was topped off with an awards ceremony after school where those with special commendations received their plaques.  It marked one of the last full Upper School assemblies of the year.  The last such event will be the talent show, which recognizes the talent of students and officially ends the school year on June 9th.
The Patriot congratulates all of its awarded members on their outstanding contributions to the paper and to the rest of the student body.