"Black Lives Matter" movement in the NBA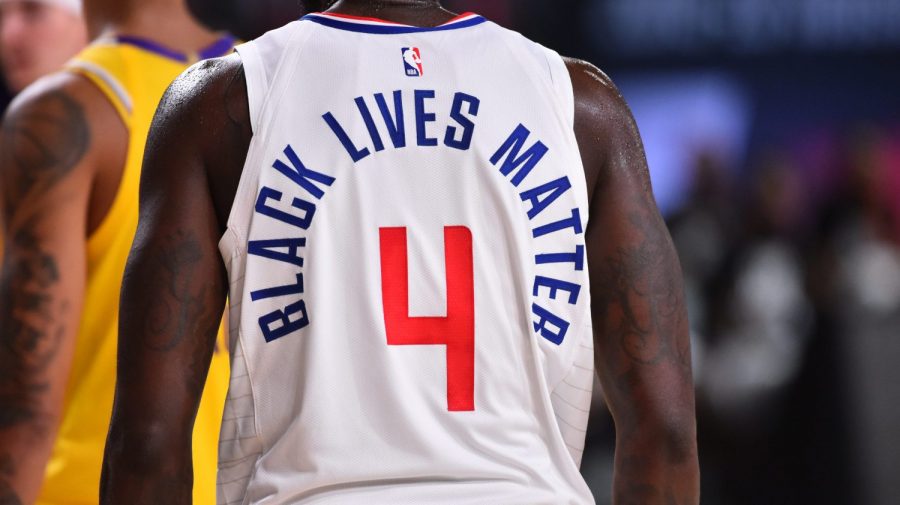 William Lawrence, Article contributor
September 16, 2020
After the shooting of Jacob Blake that happened on August 23 in Wisconsin, players in the NBA were very angry. They were so angry that another horrible act of racism happened again. The Milwaukee Bucks were the first to protest. They were scheduled to have a game against the Orlando Magic in the first round of the playoffs. The Bucks protested and didn't show for their game. After the game was canceled the Bucks had a message for this country. 
"The Bucks organization is praying for the recovery of Jacob Blake, who was shot multiple times in the back by a police officer at point-blank range in Kenosha, Wisconsin yesterday. Our hearts go out to his family and friends. We stand firmly against reoccurring issues of excessive use of force and immediate escalation when engaging the black community. Our organization will continue to stand for all black lives as we demand accountability and systemic change on behalf of George Floyd, Breonna Taylor, Sylville Smith, Ernest Lacy, Dontre Hamilton, Tony Robinson, Joel Acevedo,and countless other victims. We will work to enact policy change so these incidents no longer exist." Not just NBA teams were inspired by the Milwaukee Bucks. Professional Sports all over America canceled practices and games to protest. For the next few days, all of the games were canceled in terms of protest. Some teams even threatened to not play and to stop the season until things changed.
As everyone knows, there have been lots of acts of racism and violence. Police have injured or even killed many African Americans who didn't deserve to die how they did. Some of those people who were killed were Breonna Taylor, George Floyd, Jacob Blake, and many more. With lots of protests and marches, many athletes have been working hard to stop all of this. NBA players such as LeBron James and Chris Paul, who are some of the world's most influential voices are using their social platform to make a change. James has voiced his opinions many times. "Being able to use my platform, being able to use the NBA's platform, to continue to talk about what's going on, I will not stop until I see real change for Black America, for African-Americans, for people of color. And I also believe I can do both. I can bring happiness to a lot of homes with the way I play the game and with the way the Lakers are going to play the game, and I will continue to push the envelope and keep my foot on the gas and create real change for us as people of color in America."
George Floyd was a black man who was killed by white police wrongfully. The cops started kneeling on his neck causing him to lose his breath and choke. He was begging for his life and not resisting arrest. Athletes all over the world decided it was time to make a change and to stop this. When the NBA resumed after the break that was caused by COVID-19, things were different and it wasn't just the stadium with no fans. There were new words painted all over the court. Those words said "BLACK LIVES MATTER." Instead of wearing warm-up shirts with their team names and logos on them, they wore shirts that were also inscribed with the message of "BLM." During the National Anthem, almost every NBA player knelt and either put a fist in the air or put their arms on their teammates. 
The President of the United States caused controversies because he disagreed with the peaceful protests that the athletes are doing. In Donald Trump's own words, NBA players are, "very nasty, very, very, nasty, and frankly really dumb." President Trump has a very distinctive view of the sportsmen's role in politics. NBA superstar, Stephen Curry has his own opinions about The President. "My barometer is always, if the current president is upset about something that somebody's speaking out on, then you're probably saying the right thing." The Los Angeles Clippers coach Doc Rivers had fought against racism for all of his life. After practice, he was asked about how he felt about the actions of the President. "All you hear from Donald Trump and all of them, talking about fear," said an emotional Rivers. "We're the ones getting killed. We're the ones getting shot. We're the ones denied to live in certain communities. We've been hung. We've been shot. And all you do is keep hearing about fear." 
The restart of the NBA was bigger than basketball. With NBA players all fighting for the same thing, something was bound to happen. With every NBA player kneeling or showing other forms of protest during the national anthem, the message of stopping racism was blasted throughout the country. The athletes did a fantastic job of using their platform to influence others to protest.