Students return to school for sports practice
As the Fall season approaches, Viewpoint sports teams are arriving on campus to practice again. As the coronavirus pandemic continues to keep students worldwide out of the classroom, the students' involvement in high school sports has also been affected. I have been on the Viewpoint baseball team for four years now, and having my junior season cut short last spring made me realize the importance of high school sports and how much the Viewpoint Athletic Department has done for all of the athletes.
Whether it be football, baseball, volleyball, soccer, etc., all Viewpoint student-athletes were stripped of their chances to practice with their teams for the Spring and Summer months. Many students view their sport as a chance to get away from the stressful teenage life at such a competitive school, so the lack of sports during quarantine took a toll on many students who love staying active and bonding with their teammates. Viewpoint School and the Athletic Department are filled with responsible leaders that want the students to practice what they love, but doing so with the correct safety precautions.
As the summer came to an end and daily COVID cases began to drop, Viewpoint took action​ and prepared for the student-athletes to finally come back to practice. To participate, students need to upload a negative COVID test monthly, have their temperature taken before stepping onto campus, and follow the set rules and regulations while practicing with their team.
For most, the coronavirus brings stress to one's mental state simply, not only because they do not want to contract the virus themselves, but also they do not want to spread the potentially-deadly virus to family members.​ Many students love spending time with their grandparents, so the only way they would go to practice is to feel comfortable with how Viewpoint is handling it.
In response to how Viewpoint is handling the return to sports practices during this unprecedented time, varsity volleyball player Mila Boudreau ('21) says,​ "I think they are being very careful. We have our own pods and have to stay six feet apart at all timeless. We can only touch the same ball as one other person". When asked about the upcoming season, Boudreau says,​ "I am really excited, and although the season might not happen, it is still fun to practice with the team because this is my last year playing with some of my childhood best friends and girls that I have gotten really close to over the years of being on the team."
Many students are hoping for the fall sports to pick up in the upcoming months, so it is incredible to hear that the girls' volleyball team can practice and feel safe on campus while doing so. Another fall sport is football. ​In terms of how the football team conducts their practices, three-year varsity starter and captain Brady Nebens ('21) say​s, " During practice, we are required to keep our masks on, we are not touching the footballs, and make sure to clean weights after using them. We are keeping groups limited to 6-8 people and are always instructed to stay six feet apart.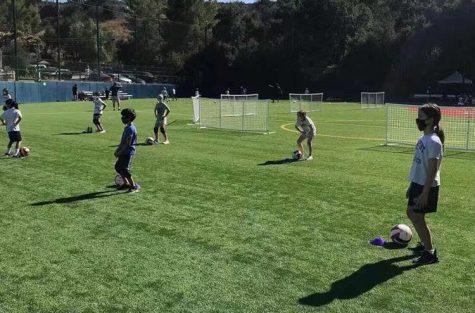 After talking with players from two separate teams on campus, it seems that Viewpoint is doing everything they can to ensure that the athletes are getting better every day while staying safe and respecting others. These precautions are becoming a new normal, so after asking Brady about how he felt about this new normal, he said, " I don't think this will ever feel normal. I don't like wearing masks when I run or not being able to touch the footballs, but being out there with my friends and preparing for a hopeful season is something that is really special to me.
Apart from athletes, coaches also believe that Viewpoint is handling the return to sports practice well. ​Coach Webber, who is in his third year of being at Viewpoint, says, "I think they are doing a fantastic job. They are giving us the proper guidelines and are trying to be at the forefront of having kids get back out there". ​Since baseball is a spring sport and will not be taking place until the middle of March this school year, there is debate on whether there will be a season.​ Coach Webber says, "I am optimistic and think that it will happen. We are doing a lot of individuals right now and not much teamwork. Hopefully, when we get back to the team working as a whole, then we will have an excellent base". ​After cancellations, last spring season, Coach Webber's response is exciting and optimistic for these teams.
With the athletic community being so prominent at Viewpoint School, it is impressive to return to campus and practice again. Athletes and coaches are extremely comfortable with how Viewpoint is handling the situation and will continue to practice to prepare for the hopeful upcoming seasons.