Remember Diego Maradona – The most iconic no.10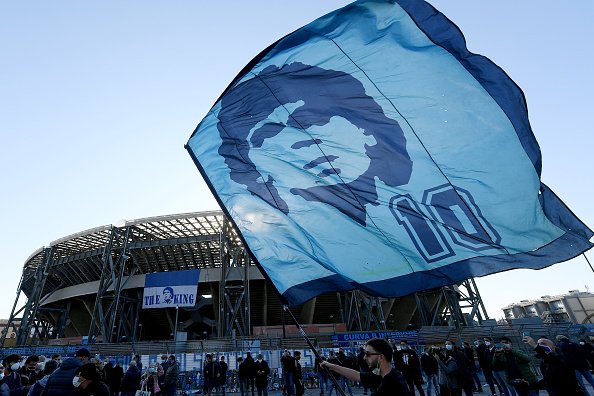 One of the Best to Ever Play, Diego Maradona, Dies at the Age of 60
Diego Maradona, one of football's greatest superstars, died at 60 on November 25, 2020. He partook in an illustrious career, playing for the likes of Napoli of Italy and Barcelona and winning a World Cup with Argentina in 1986. Maradona suffered a heart attack after a long history of problems with drugs and alcohol. To see how much he was loved, look no further than the fact that the Argentinean government declared three days of national mourning in his honor. To this day, many analysts worldwide believe that he is one of if not the best players ever to grace the sport. The way he would use his low center of gravity to dribble through teams and his brilliant vision to find teammates anywhere on the field was something that no player was capable of besides him.
What was by far Maradona's most illustrious match occurred in a quarter-final match of the 1986 World Cup between the national team of England and his national team, that of Argentina. After a closely contested first half of action, Maradona scored what is to date one of the most memorable, albeit controversial, goals in the history of the sport. As a long ball was played into him, he was forced to engage in an aerial duel with English goalkeeper Peter Shilton. Due to the stark contrast in the two players' heights, Maradona brought it upon himself to shrewdly flick the ball over the onrushing goalkeeper with his hand, a play that, if noticed, is obviously against the laws of the sport. Later in the match, Maradona scored what was referred to as "The Goal of the Century," as he slalomed through almost half of the Argentinean team, a goal that made even the most staunch English supporters tip their metaphorical caps. On the day, the lone English goalscorer, Gary Lineker, considers Maradona one of his most prolific role models and delivered a touching tribute to him on social media on the day of Maradona's passing.
In a statement on social media, the Argentine Football Association expressed "its deepest sorrow for the death of our legend," adding: "You will always be in our hearts." UEFA and CONMEBOL announced that every match in the Champions League, Europa League, Copa Libertadores, and Copa Sudamericana would hold a moment of silence prior to kickoff. Boca Juniors' game was postponed in respect to Maradona. Subsequently, other confederations around the world followed suit, with every fixture observing a minute of silence, starting with the 2020 AFC Champions League's fixtures. In addition to the minute of silence in Italy's Serie A an image of Maradona was projected on stadium screens in the 10th minute of play.
Maradona is considered an icon in Argentina. Concerning the idolatry that exists in his country, former teammate Jorge Valdano said, "At the time that Maradona retired from active football, he left Argentina traumatized. Maradona was more than just a great footballer. It was a special compensation factor for a country that in a few years lived through several military dictatorships and social frustrations of all kinds." Valdano added that "Maradona offered to Argentines a way out of their collective frustration, and that's why people there love him as a divine figure. In leading his nation to the 1986 World Cup, and in particular his performance and two goals in the quarter-final against England, Guillem Balagué writes: "That Sunday in Mexico City, the world saw one man single-handedly – in more than one sense of the phrase – lift the mood of a depressed and downtrodden nation into the stratosphere. With two goals in the space of four minutes, he allowed them to dare to dream that they, like him, could be the best in the world. He did it first by nefarious and then spellbindingly brilliant means. In those moments, he went from star player to legend."
About the Writers
Christopher Fillipakis, Staff Writer
Christopher Fillipakis ('22) is a staff writer for the Viewpoint Patriot. He is a member of the Interface Youth Action Team, a group that actively participates...