What's Next for UCLA Basketball?
After a historic run in the annual March Madness tournament NCAA Basketball Tournament, what's next for UCLA Basketball. For some context, UCLA was ranked as an 11 seed in this year's tournament. There are 4 groups of 16 seeds each so it is safe to say that UCLA was well in the bottom half of the teams in the tournament. In fact, with a poor end to their regular season, UCLA almost did not qualify for the famous tournament. They had to play a qualifying match against Michigan State, a basketball powerhouse that many people expected to beat the Bruins. Under the guidance of coach Mick Cronin, they took down the Spartans in overtime to qualify for the round of 64. There, they had to take on BYU and their superstar guard Alex Barcello. Although they were ranked as a 6 seed and Barcello was firing on all cylinders, UCLA put forward an incredible team performance to upset the clear favorites. With sophomore Johnny Juzang putting up 27 points on the night, they were unstoppable. Due to Abilene Christian's upset over number 3 seed Texas, UCLA actually had a favorable matchup in the round of 32. Thanks to an incredibly strong defensive performance, holding Abilene to only 47 points, the Bruins saw themselves facing Alabama in the Sweet 16. At this point everybody was talking about how impressive of a run the Bruins are on, and most people assumed it would come to an end as their opponents were touted as the best number 2 seed in the tournament. Alabama had great players all across the court but contrary to almost the whole basketball world's predictions, UCLA took a dramatic victory in OT. Although star shooting guard and Viewpoint Middle School attendee Johnny Juzang fouled out, all members of the team played their part to send the Bruins to the Elite 8. This is where everybody thought, "Okay, this is a bit crazy. The Bruins' run will come to an end, right?" What happened instead was an incredible two point win over number 1 seeded Michigan, led once again by Johnny Juzang, who contributed 28 of UCLA's 51 points. Now that they have reached the Final Four, only the undefeated and clear tournament favorites Gonzaga were standing in front of the National Championship game. The Bruins played arguably their best ever game with Juzang leading the way yet again. After almost winning the game in regulation, UCLA was taken to OT against Gonzaga. This is where a shot was made that could be considered the most insane March Madness moment ever, although there is tough competition for that title. Future NBA top 3 pick and Gonzaga point guard Jalen Suggs heaved up a shot from half-court right at the OT buzzer, and it went in off the backboard. Just like that, the UCLA Bruins' incredible March Madness fairytale came to an end with one shot.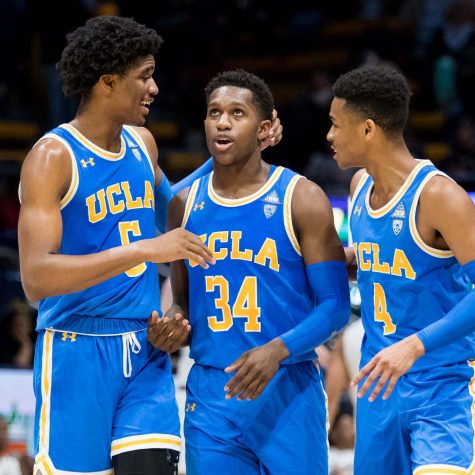 UCLA basketball is looking to have a bright future ahead of them. They have gotten a head start on future recruiting with 5 star small forward Peyton Watson committed to UCLA in the 2021 class along with 4 star shooting guard Will McClendon according to ESPN's rankings. Peyton Watson is ranked as the best high school player in the state of California. He attends Long Beach Poly high school. His length and scoring ability should be a great fit in UCLA's roster. McClendon attends Las Vegas powerhouse Bishop Gorman and should bring a toughness on the defensive end next that is very important to UCLA's future success. UCLA also got the commitment of shooting guard Amari Bailey who is the third ranked player in the entire nation for the class of 2022 according to ESPN. Amari attends Sierra Canyon where he has been a star player since he was a freshman. UCLA will also be looking to add center and backup point guard before the start of next season. UCLA has been in contact with Rutgers center Myles Johnson who could fill the role that former UCLA center Jalen Hill will be leaving behind. Some point guards who have just entered the transfer portal that could be options for UCLA are Kentucky's Devin Askew and KJ Simpson who recently decommitted from Arizona. Another strong option is TyTy Washington who decommitted from Creighton. It is likely that small forward Chris Smith will be leaving after being injured this last year, which was his senior year. The future is uncertain about both Johnny Juzang and Cody Riley. Johnny, who had an incredible run in March Madness, is being projected as a second round pick and could either declare for the draft or spend another year at UCLA trying to improve before going to the NBA. Cody has spent 4 years in college already and could either test his luck at the NBA, play professionally overseas, or spend a fifth year at UCLA before leaving. Other than these few players, everyone on UCLA's roster will most likely return next season. This includes key contributors Tyger Campbell, Jaime Jaquez Jr., Jules Bernard, and David Singleton. Some of the best players in the Pac 12 will most likely be leaving this year. This list includes USC's Evan Mobley and Tahj Eaddy, Oregon State's Ethan Thompson, Oregon's Chris Duarte, Colorado's Mckinley Wright, Arizona State's Remy Martin and Josh Christopher, Stanford's Oscar Da Silva, and Washington State's Isaac Bonton. With this much talent leaving the Pac 12 and UCLA seemingly getting even better next year, they have a clear path to win the Pac 12 next year. Head coach Mick Cronin's contract has been extended through the 2027-2028 season. With the winning culture he has instilled in this program along with how well he coached in March Madness last year, it seems like he will bring steady success to UCLA for the duration of the time he coaches there. UCLA surprised everyone by making the Final Four in a stunning run this March, but this is just the beginning for the Bruins.