Homelessness in Los Angeles: An Ever-Evolving Surge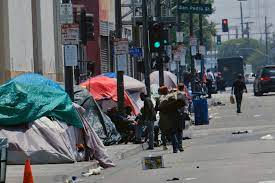 Homelessness has been an ongoing issue in California for decades.  However, the problem has grown exponentially over the last several years.  Whether it is due to increased financial pressures or strictly due to the pandemic, the number of homeless people in our neighborhoods has grown precipitously. The pandemic has affected our world greatly, with lives lost and many people unemployed, thus leaving individuals stranded throughout places including California. According to Cap Radio before the pandemic (Jan 2020), the state of California had an estimated 161,000 people unsheltered, a 7% increase over 2019.  Los Angeles County experienced a 13% increase in homelessness during the same period. There is no doubt that we will see an even bigger increase when 2020/2021 data comes available. With the idea of California and Hollywood being glamorized over the years, people are  naturally attracted to seeking for new and 'better' opportunities. However, when they arrive, people are left stranded after seeing the towering prices of homes these days. With their money having to go to other necessities, there is not enough to cover the pricey living places in California. On another note, drug and alcohol use plays a big factor into why the homelessness population increases every day. With the feeling of no purpose in life, people abuse these substances to an unhealthy and unstable point, most of the time being unable to overcome their addiction. Unfortunately, these products are very attainable for drug consumers.
Fortunately, many leaders throughout California have been trying different methods to positively improve and address the growing problem of homelessness. One such individual is Calabasas City Council member, Alicia Weintraub. For more than 10 years, Alicia has been appointed to many positions in Calabasas City Government. She held the job of Mayor during the no doubt, very taxing 2019-2020 term. Due to her ongoing community service, I discussed this prominent situation with her to understand her perspective. Alicia informed me that the City of Calabasas shares a Homeless Outreach Coordinator with our neighboring cities, including Malibu, Westlake Village, Agoura, and Hidden Hills. Once a homeless individual in the community has been spotted and verified, the coordinators meet and check in with the person in need. From there, the person gets transported to the San Fernando Valley Community Mental Health Center where they are provided a secure place to stay. 
In our community, we can work to prevent homelessness by donating everyday items to shelters as well as doing our part by reporting any encamped homeless individuals. Some donation centers in the area include West Valley Food Pantry (https://www.westvalleyfoodpantry.org) and Salvation Army (https://www.salvationarmyusa.org/usn/). These organizations take items of almost all categories at any time of the year. In addition, Upper School students between the grades 10-12 can apply to be a counselor at Camp Harmony, by United in Harmony (https://unitedinharmony.org/camp-harmony/). This organization is most known for their free camp experience they provide for underprivileged kids of all years. Located in Los Angeles, United in Harmony has a week long Summer Camp as well as a shorter Winter Camp, around Presidents day weekend. When a student applies to be a counselor, they get to help these children thrive through their long-awaited camp experiences. Personally, I attended as a counselor in summer 2021 and it was heartwarming to watch these kids express their personalities through different activities. The organization has several fundraising events throughout the year to provide for the attendees. Furthermore, by downloading the City of Calabasas app or keeping contact with council members like Alicia, you can help ensure a person's safety. If you were to cite someone without a safe living space, you can report it by the app. From there, the Homeless Outreach Coordinator will handle the rest.