A community devastated: The tragic Oxford High school shooting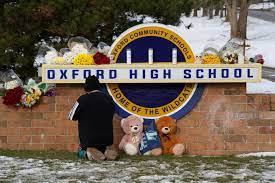 On November 30th, A fifteen year old student at Oxford High school in Michigan opened fire on his classmates, leaving parents, students, teachers and an entire community to pick up the pieces of the tragedy and looking for answers. 
Madisyn Baldwin, Tate Myre and Hana St. Juliana were killed on November 30th, in the south end of the school, during the late noon hour. Justin Schilling, who attempted to disarm the shooter, died of his injuries in the hospital the next day. Tate played football. Hana played volleyball and basketball. Justin was beloved by his golf and bowling teams. Madisyn was a talented artist with several college scholarship opportunities. All kids, still children, who displayed immense bravery in the face of immense fear, whose innocence was stolen from the forever. 
On the days leading up to the tragedy, 2 teachers separately reported suspects for concerning behavior, resulting in meetings taking place with his parents just hours before the shooting. Ethan Crumbley was described as "methodical." The first shots rang out in front of a school bathroom, then throughout the halls and classrooms. Four students died, and 8 others were injured, including a teacher. Students and teachers at Oxford barricaded doors with desks, they covered windows, hid themselves in corners. They took videos for proof, and fled when the access was attempted to get into classrooms. 911 offices received over 100 calls in the first 5 minutes after the shooting started, and Crumbley was apprehended within minutes of police arriving at the school, where he was said to set the gun down before being arrested. 
In the wake of tragedy after tragedy, shooting after shooting, the only question left can be, how are continuing to let this happen? School shootings hit a low in 2020 as many U.S. schools transferred to online instruction due to COVID-19, let in the past year there have been over 28 school shootings in which bodily harm or death has occured. In 2019, that number topped 110. Why does this keep happening?
It all comes back to a culture of complicity, created by strikingly partisan lawmakers, congresspeople and others like the Crumbley family, who seem to not see the problem with children being afraid to go to school, and don't recognize the red flags until it's too late. In the ongoing investigation regarding the events leading up to the shooting, it was discovered that Ethan Crumbley's parents had allegedly bought the gun for him as an "early Christmas present," via social media posts Crumbley himself has posted. When caught by a teacher looking up ammunition in the days before the shooting, Crumbley's mother texting him, using "LOL," and "don't get caught." The day of the tragic event, a parent teacher conference with Ethan and his parents regarding the previous incidents took place, yet the shooter was allowed to return to class with a gun in his backpack, instigating unimaginable panic and displaying harrowing evil. 
Crumbley's parents who failed to show up to their first hearing for involuntary manslaughter charges and were declared as "wanted individuals,"  were arrested in a building, only several miles away from  the Canadian border. The fact that all 3 family members are being charged in this case indicates a growing anger towards the increased violence in schools. Lockdowns and shooting drills are now considered "normal." Tiktok jokes about school shootings are "satire," and "funny." Gun violence is decimating communities and families. At what point will we stop? At what point will we say, no more? Because every day children are buried, families are broken, and hearts are shattered. Our hearts go out to the Oxford community, the friends and families of the victims and those injured, and the students who have experienced the unimaginably terrifying tragedy.
If you or someone you know  is struggling with a mental health crisis: call 1-800-273-TALK (8255)
If you are a student who wants to take action to combat gun violence, go to https://marchforourlives.com/policy/