Florida's Harmful New Bill for LGBTQ+ Youth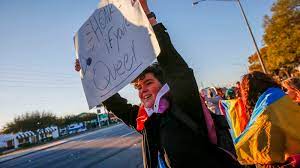 Florida Governor Ron Desantis has signaled support and signed the bill to move forward with the state's newest attack on LGBTQ+ youth. The Parental Rights in Education Bill, now coined the "Don't Say Gay" bill, is the newest piece of legislation that seeks to ban LGBTQ+ curriculum from schools, going as far to say that having a simple student teacher discussion about gender identity is not "age appropriate or developementally approriate for students." 
The Parental Rights in Education Bill states school districts "may not may not encourage discussion about sexual orientation or gender identity in primary grade levels or in a manner that is not age-appropriate or developmentally appropriate for students." Not only does this apply to all Florida K-12 schools, but the vagueness of the language indicates that almost any discussion about sexuality and LGBTQ+ rights or history would be avoided in the classroom.
This creates an even bigger taboo around the topic of sexuality and gender identity, effectively removing any safe spaces in schools, which for some kids, are the only place they feel comfortable enough to truly be themselves. Safe spaces allow LGBTQ+ students to feel if they are in an inclusive environment where respect and dignity are given. Historically, LGBTQ+ students have continuously had to deal with a lack of inclusivity, both in social and academic settings, due to the lasting stigma around gender identity and sexuality. This bill would not only aggravate students' relationships with themselves, others and gender identity, whether they are in the closet or out, but would also create lasting damage. According to the Trevor Project, 42% of LGBTQ+ youth have dealt with serious  suicidal ideation due to anti-LGBTQ rhetoric, being 4 times as likely as their peers to commit suicide. 
Unfortunately, anti-LGBTQ+ legislation has kept building over the past couple of years. 2021 was slated as the worst year of LGBTQ+ state legislative attacks. Bills like SB 347, aimed to prohibit trans youth from receiving gender confirmation surgery, have died in Alabama senate committee. Other bills, on the desks of senators waiting for signatures, seek to further erode LGBTQ+ youth inclusivity, including Tennessee Bill SB 1367, which seeks to ban trans or queer youth  from using gender-affirming bathrooms and lockerooms. 
In a wave of increased intolerance and inclusivity  from the very government institutions that claim "liberty and justice for all," Ron DeSantis's "Parental Rights Education Bill"  is nothing but a blatant attack on the safe spaces of LGBTQ+ youth.