The Biden Administration: Year One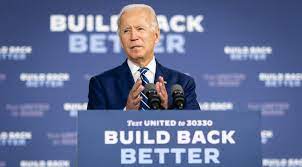 Joe Biden's first year in office has been a tumultuous one, coming at a time of intense political division and a surge in the coronavirus.  The president made many campaign promises that he's already followed through with, such as reversing Trump's ban on transgender military members and rejoining the Paris climate agreement.  
However, the president's approval rating has been steadily dropping, as shown by the latest poll taken by Gallup. In February 2021, 57% of Americans said that they believed he was doing a good job as president, but this number has fallen to 40%.  This loss of approval can be seen most in independents, dropping by almost 30%.  Biden's first-year job approval rating is now the second-lowest out of the past eleven presidents, only ahead of Donald Trump.  
A lot of Americans' mixed feelings have mostly stemmed from inflation (and related supply chain woes), the new surge of COVID-19, and the US' involvement in Afghanistan.  These three issues were some of the biggest facing the 46th president throughout his first year, and he made promises to address them.  But, has he kept his word?
The pandemic has hit the economy especially hard, bringing it to national attention.  In a survey conducted by the Pew Research Center, 89% said that consumer goods prices have gotten worse since last year.  The US Bureau of Labor Statistics reported a 7.0% inflation rate since last year, and faulty supply chains due to the pandemic have caused increasing frustration.
Karen Dynan, a former Treasury official under Obama, told the New York Times, "There was a lot of optimism a year ago.  We'd gotten the vaccines faster than we'd thought, and we thought our lives were going to be able to go back to normal, and people just expected the economy to come along with that.  And maybe that was a little naïve."  
Inflation has left prices soaring, with blockages in the supply chain making resources scarce.  Now Americans are finding it harder than ever to buy the things they need and are turning to the president for answers.  Biden has ordered a review of supply chains, but hasn't yet taken action on his Build Back Better plan, the third part of which included economic relief bills.  
While there are some positives, including a rise in job rates and overall economic growth, the public's outlook on the economy has been gloomy, with no obvious solution in sight.
Pandemic fatigue has left many pinning the blame on Biden, resulting in a 21% drop since March of Americans who think he's handling Covid well.  The president pledged to return the country to as close to a state of normalcy by December as possible, stating in a campaign rally in November 2020 that he planned to "beat this virus".  However, all hopes for a speedy end to the pandemic were dashed by the arrival of the Omicron variant,  totaling over 95% of all Covid cases in the country, outpacing the Delta variant and forcing a new wave of mandates and regulations.  
Biden passed his $1.9 trillion COVID-19 relief bill last March.  The plan gave $350 billion to states for pandemic relief and $20 billion to fund vaccination campaigns.  He also introduced a website last Wednesday that provides up to four free Covid tests for families in need (covidtests.gov).  And lastly, Biden continues to push his campaign to vaccinate 70% of the American populace before September 2022.  The number currently stands at 61%, with a long road ahead of him to reach his goal.
Last August, In a mission which he called an "extraordinary success", Biden also terminated US involvement in Afghanistan, a war that had spanned almost 20 years.  After invading and helping fight back against the Islamic Emirate (controlled by the Taliban) since 2001, America finally pulled out of the war, taking over 125,000 evacuees with it.  
The rush to leave Kabul Airport was chaotic and bloody, resulting in the death of 13 American service members and backlash from Democrats and Republicans alike back home.  The firestorm was intensified by the release of footage of thousands of Afghans running across the tarmac, clinging onto departing planes in an effort to escape, only to be held back by US soldiers.
Biden defended his decision though, saying in a press conference, "there is no evacuation from the end of a war that you can run without the kinds of complexities, challenges and threats we faced", and acknowledging those who lost their lives in the scramble.
With Russia engaged in war with Ukraine and Omicron deaths reaching an all-time high, Biden's second year in office promises to be just as tough as the first.  He still has a long way to go in fulfilling his campaign promises and reclaiming some of the trust that he lost during a tepidly-received year in office.