Demolition, Destruction, Domination: Viewpoint Varsity boys basketball shrugs and advance into Regional semi-final
Two days after the first round of the 2022 CIF State Boys Basketball Championship, Viewpoint Boys Varsity Basketball takes on Bishop Diego Cardinals at the Paul Family Athletic Center in a mouthwatering clash. Despite possessing tremendous firing power, there are still questions Viewpoint needs to answer: Can they take a step up? Can they remain consistent? What about handling pressure? The answer to these three questions would decide the outcome, if not the future of their season.
Can they limit Kai Morphy, Bishop Diego's talisman who has carried the Cardinals to this point? 
The team's performance assured that supporters ought not to worry about their ability, nor their consistency because when the final buzzer sounded, Viewpoint demolished Bishop Diego Cardinals by 74 to 38. This victory has not only pushed Viewpoint through to the regional semi-final of the state championship, but it has galvanized peoples' belief that the team is onto something extraordinary this year.
"I am so proud, just happy we advanced, we felt confident. Like I said two nights ago, it's all survive and advance. We will be analysing our next opponent and preparing for tomorrow's practice," said Coach Prince who spoke to the Patriot after the game.
"They are CIF Champions for a reason; they are very good. We were excellent in taking away their two best players tonight. Jordan Garrison held a player that usually scores 20 plus points; tonight, we held him to fourteen. Osiris Nalls was excellent as well" Prince smiles as he praises the junior. "
With Viewpoint leading almost twice as many points as Bishop Diego has, Coach Prince was delighted to see some actions from many of the bench players. "They are dedicated members of our program; they are great young men. They deserve to get on the court and state that they participated in a state championship game."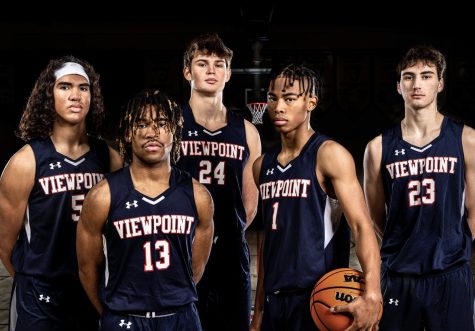 Many viewpoint fans also spoke to the Patriot after the game, relishing the unblemished performance from their team, a display that starkly contrasts Tuesday's. "Tuesday was a grind, today's performance was spectacular. Everybody played their hearts out." 
"We played much better today than we did on Tuesday. We were more unified. The scorelines tell you what you need to know what kind of performance we put on. Max Wiseman and Jesse Hutchinson commented on the game afterward. "I think we can go all the way; I think we can win the state championship." Wiseman is confident in Viewpoint's physicality and attacking prowess and defensive solidity.
"It was destruction, demolition, and domination for sure," said Marina Boudreau when asked about what words she would describe Viewpoint's immaculate performance.
"Everybody came together, we were united, and I am super happy to see so many people come off the bench and contribute to the game," said Caden Kundar, who scored Viewpoint's last three-point basket in the dying seconds of the fourth quarter. "It's always a good day when you can pound a team that won the CIF; we put in so many hours in, we deserve this. Kishant, Olai, Will, and AK got to play, it was great."
As Viewpoint proceeds into the regional semi-final, they will continue to host Mt.Carmel Sundevils of San Diego at Paul Family Athletic Center on March 5, the game will commence at 6 pm and admission will be available starting from 5. 
Across the divide, Viewpoint girls basketball state season came to an end after losing to Rosary Academy away 42 to 56; Karlee White's ankle injury has proved to have an immense impact on girls' performance. The Division 1 champions' journey ended in the 2022 CIF State Girls Basketball Championship Round II.