Survive and Advance – Viewpoint School proceeds to the regional final by crushing Mt.Carmel
When you hear "Let's go Viewpoint!" You know for sure that it is junior Max Wiseman who has arrived; this time, in his tuxedo. Appearing in front of the homestand late this time with junior Jesse Hutchinson, Wiseman's passion was on full display, and support was unwavering. "You are going home! You are going home," screams Wiseman. The gentleman ultimately had his voice broken, but his urge to voice his support did not deter him from keeping testing the elasticity of his vocal cord; quite the contrary, the homestand fans were galvanized by his presence, which made this regional semi-final game between Viewpoint School and Mt.Carmel High School of San Diego that extra loud, and extremely entertaining. What's more, freshman Elie Netzah's guerrilla costume added a spectre of comedy at the supporters' end, dancing to distract the opposition when Mt.Carmel is taking a free throw; it complemented the scenes of a fundamentalist supporter group. 
The first half saw Viewpoint and Mt.Carmel neck-to-neck; the score difference never exceeded double-digit. In the second half, though, Viewpoint's attacking prowess was very well exhibited, as three points after three points get knocked into the basket. When the fulltime buzzer sounded, Viewpoint was victorious by scoring 90 points past the Sundevils, who could only scramble 56 points. As usual, Junior Giovanni Goree's performance, combined with his consistency, was instrumental for Viewpoint, who secured their ticket at the regional final for the second time in six years. "Giovanni trains like a professional athlete, [he's] always ready for the big moments; A special player and Captain," Prince praises his top-scorer after the game.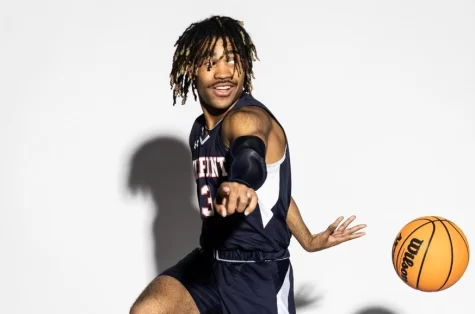 The game was not without its intrigue. As Senior Andrew Klaey's attacking rebound resulted in a basket, Mt.Carmel was able to throw in two three-points in quick successions. Calling a time-out, Viewpoint basketball coach J.J. Prince passionately reminded the players that the original game plan was to prevent Mt.Carmel from scoring three points. 
"The whole game plan was designed to prevent three pointers. We gave up 2 immediately [in the first quarter]. [I] told the boys that cannot happen. [We] did a great job after that." Prince commented on the time-out. 
With a lead that is around 25 points in the late third quarter, Prince again decided to sub on his bench players, whose performances did not disappoint the fans, and of course not the coach. Senior Will Kanny scored two points this season, but his third came from a free throw tonight. "I loved tonight; the crowd was awesome, Caden Kundar had five points, that was amazing," said Kanny, "To be honest, I've only had two points before this game, and I have three points!"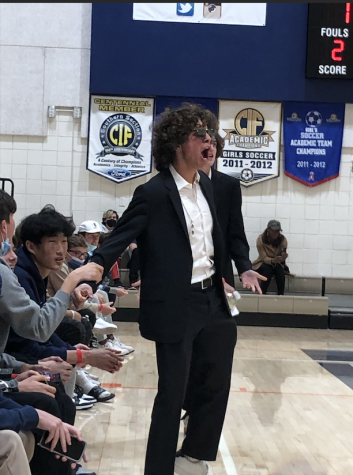 "I am just happy Will scored; I am happy that every player got in today. You really cannot ask a more perfect than that," said Kundar praising his senior teammate, "the crowd was into it; we won by thirty." Kundar was elated to see his three-point shot in the fourth quarter go in, who later celebrated his goal with Will Kanny by padding his back, smiling.
Viewpoint's performance on the court had the approval of Max Wiseman and Jesse Hutchinson. "I like to show up in styles; for a weekend game, I gotta show up in style," when asked why the two showed up in tuxedos, "I did it to hype the crowd up; sometimes I would be late, but I want to give the team all the support they deserve," said Wiseman.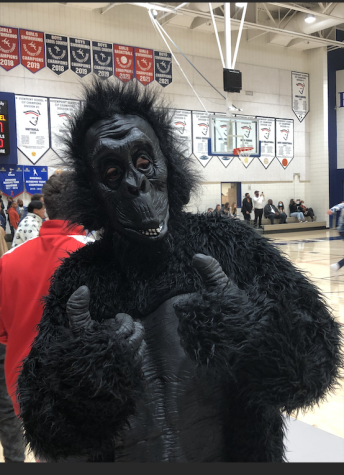 "It does not get better than this, we crushed a team by thirty points, it was a devasting win," Hutchinson commented.
Giovanni Goree's performance during the state season has made him the talisman, averaging 23.5 points per game, but what makes him stand out though is not his ability, but his consistency. "I pray, I pray to God. He's got you." The point guard expresses his thankfulness after the game.
Viewpoint School will host Venice High School on March 8th in an ultimate regional final tie; the winner will proceed into Sacramento to compete in the state final. "We are confident we can win the whole thing. I will travel to Sacramento if we win the regional," said Jesse Hutchinson.