Viewpoint's Film Symposium premieres "Hardcore" and "Sole Searching"
Viewpoint held its Film Symposium on Friday, June 3rd, in the Carlson Family Theatre.  The symposium is an annual tradition for Film IV students to show their end-of-year projects.  The Patriot was in attendance for the premiere of two student-made films, "Hardcore" and "Sole Searching", as well as the cast Q&A that followed.
Family, faculty, and friends alike gathered in the CFT to listen to a touching introduction by Ms. Hoenig, the Film IV teacher.  After that was the premiere of "Sole Searching", a comedy written and directed by Colette Samek ('22).  The story follows a girl named Sarah (Hally Smith), down on her luck after being forced to take swim to catch up on missed PE credit.  After almost getting hit by a car while walking home, Sarah believes that a lone sneaker she stopped to pick up was her saving grace.  She takes it home and almost immediately scores a date with Josh, her school crush.  Trusting that her lucky shoe will steer her right, Sarah lets it dictate her life, until Josh stands her up on their restaurant date, leaving her heartbroken.  But the owner of the lone shoe happens to spot her and they form a bond, proving that maybe the shoe was lucky after all.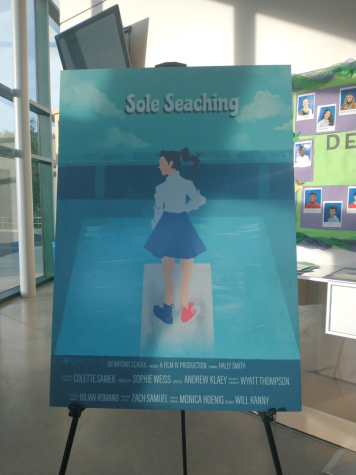 "Sole Searching" was followed by the drama, "Hardcore", written and directed by Madeline Case ('22).  Madeline was one of 20 students nationwide to be named a US Presidential Scholar for her work on "Hardcore".  The film tells the story of Sarah (the identical names were purely coincidental, say both directors), played by Sidney Eiram, a photographer who catches the eye of drummer August (Drake Roger) at a band photoshoot.  The story is told through flashbacks and a present-day adoption interview where Sarah hopes to give her and August's child a new home.  It's slowly revealed that August didn't leave the family, but chose not to have surgery to stop his brain cancer, later passing away.  Later, Sarah is shown displaying her photos of August in a new gallery (filmed at Viewpoint's own Malcom Family Gallery), choosing to keep the baby and honor August's memory.
After the two short films had ended, Ms. Hoenig returned to the stage to welcome up thirteen students from the crew of both films for a Q&A.  Directors Madeline and Colette joined via Zoom, as well as Benji Meppen ('22) and Sophie Weiss ('22), who couldn't attend in-person.  All members of the crew were students in Ms. Hoenig's Film IV class, which runs every year, with students spending class time producing and shooting films such as the ones shown last night.  
One of the highlights was a question asked about the students' favorite moments together.  Julian Romano ('22) said, "My favorite part of this entire experience was definitely being there on set shooting the film.  The experience of being with everybody and knowing that everybody's putting their absolute effort into something that we come together to create, you feel so accomplished at the end of the day…it's just a great feeling."  The deep connection Julian expressed was palpable as the crew crowded around the table.  It was clear how grateful they were to be there after an entire year of hard work.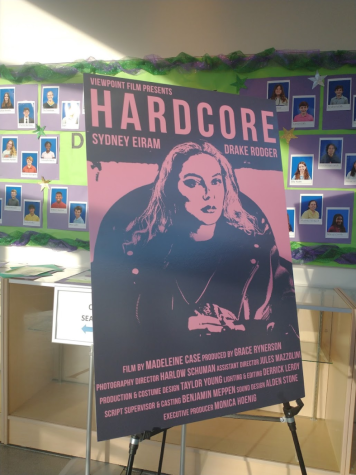 A question aimed at the directors asked how different the films turned out after several uncertainties during production (the crew had earlier discussed how the ability to film indoors was up in the air until last minute).  "When I wrote the script, I had a really vivid image of every scene, every moment in it," Colette commented.  "But, as production goes on, y'know, you have a limited budget and only so many resources.  You can't always do everything you wanna do.  But I'm beyond thrilled with how it turned out."
After another half-hour of Q&A, the night came to an end with a closing speech from Ms. Hoenig, who applauded all her students for their exemplary work despite the uncertainties of shooting during a pandemic.  Ms. Dunn, another film department teacher, brought up flowers for Grace Rynerson ('22) to hand off as students took to the mic to shower praise on their emotional and grateful teacher.  With that, the symposium came to an end.  Attendees exited to the patio, where crew members were taking photos and selling merchandise.  It was a touching end to a wonderful night of film and yet another display of how Viewpoint's arts community has worked through a pandemic to produce deep, meaningful films that reflect their passions.