Viewpoint Spotlight: The Navy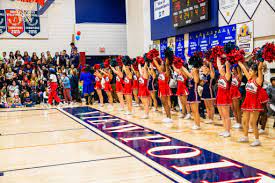 The first few weeks of school are always accompanied by a buzz in the air with excitement for the new year. However, the first two assemblies of this year were unusual in the sense that the energy in the room was off the charts, with seniors even banging on the bleaches. This was due to Viewpoint's rowdy cheering section, The Navy.
The last few years the Navy has not been able to show its full force due to COVID. However, The Navy was able to start coming to games again in 2021, the most notable version of itself at the girl's basketball CIF Division 1 championship game. Although last year was sort of a "rebuilding year" for The Navy, the captains and sports teams around campus are excited for what the student section is going to bring to games. When asked about building off of last year's navy, Navy captain Jesse Hutchinson (12) said "there was a lot of senior attendance, but this year we are going to have both the attendance and the spirit." While last year was a good year for the navy, the captains are hoping to reach new heights through a variety of strategies to get people to show up for Viewpoint's sports teams. The Navy is teaming up with faculty to create the spotlight of the week which highlights an event at school each week to create publicity and excitement, many of which will be athletics related.
The captains are hoping to use this publicity to grow school spirit and better support our athletes. It's no secret that an entire student section can impact a game. Passionate navy captain Max Wiseman (12) largely attests his spirit to the fact that "hundreds of students and 3 crazy kids on the sidelines cheering for you helps you feel good about why you're playing and gives you an incentive to play your best." The Navy is a large support network for athletes and teams across campus, and with the support of the new Navy captains and revamped faculty support, the Navy is back and better than ever.