Stampede during Soccer game: Hundreds of Injuries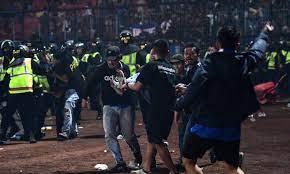 A Soccer Game in Indonesia Led to over 100 Deaths: On Saturday, October 1, an Indonesian soccer game ended in hundreds of deaths and injuries. Here's what happened. 
The game took place in the Kanjuruhan Stadium in Indonesia, with team Arema playing Persebaya Surabaya. Arema fans began to riot and flooded the field after their team lost, and the military promptly came out from a tunnel with plastic shields, batons, and tear gas. Fans ran back to the stands as soldiers kicked some down to the ground and carried others off. Outside Kanjuruhan, rioters began lighting police cars on fire. Some victims "fell because of shortness of breath and difficulty seeing due to tear gas and were trampled," as stated by Ahmad Fatoni, who was at the game on Saturday. Tear gas is known to cause burning in the eyes, breathing passages, and on the skin.
The government stated that at least 400 non-fatal injuries have been recorded, and 125 people died as a result of trampling and suffocation. However, the inhumane use of tear gas on civilians is also in question for the fatalities. Tear gas is already a very dangerous weapon in open areas, but in an enclosed space like a stadium it becomes much more deadly as there is no escape from it. In fact, FIFA states in its rules and regulations that it does not allow the use of "crowd control gas". Indonesian President Joko Widodo has ordered an investigation into the incident. 
While this is "among the deadliest episodes in the history of soccer," (New York Times) the most catastrophic incident recorded was 300 deaths after a soccer game in Lima, Peru, 1964, after a referee made a call that did not sit well with the game's viewers.