Viewpoint School Spotlight: The Diddens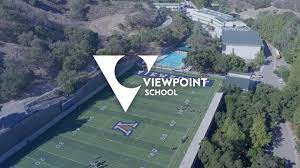 At the Viewpoint Convocation on Friday, September 2, 2022 ten members of the Viewpoint staff and teachers received the Endowed Chairs awards– as well as bouquets, for their significance in the school's community, and popularity amongst fellow staff members. Of the 10 members, Mr. and Mrs. Didden both accepted the Viewpoint Excellence in Teaching Prizes (> 10 years). The married couple is a staple of society at Viewpoint school, representing the six core values of Love, Optimism, Honor, Excellence, Optimism and Imagination. 
Mrs. Didden, the teacher for Design and Technology Integration in the Middle School was interviewed about her career in teaching last Thursday.
Getting into teaching for Mrs. Didden involved several aspects. After graduating from college, she "actually took a teaching job sort of on a whim" because of the guarantee that she could stay living where she was. It was a small school and she loved science and "worked camps and things". She recalls taking this job "thinking [she] would apply to grad school and then I loved [the job], but I didn't like living in suburban New Jersey". Upon realizing she was "young and single and.. could do it anywhere", the decision to teach outdoors rather than apply to grad school came resultingly.  She ended up working on Catalina Island teaching marine science, snorkeling and kayaking, where she met Mr. and Mrs. Kessler. "I had known Mr. Didden, but we all worked there together, and then from there we moved to working in L.A. Independent Schools.
As for when her career in teaching began, she said teaching seemed to come naturally for her, explaining how she started her first year out of college  "–kind of on a whim". She had always tutored, worked summer camps, and knew she likes working with kids.
Her favorite part about teaching can't be condensed into a sentence, because "Oh my gosh, [there's] so many things. It's fun. It lets me explore the things I wanna do". The lessons that can be learned in a game like cards or even building a tower fascinate her. Lessons about collaboration are revealed through simple things like these. "But from the kids perspective, what I love in middle school is you can really see the moment a kid gets something– like that connection that's made". The feedback loop of trying something and having it work, or not work is another aspect that leads to why she loved teaching. Helping students to "see what's going to work for them and how they are going to excel" is a benefit of the job. She says being able to see the process that's happening leads it to be fun; "So first, it's just fun, and second, I love watching and helping kids figure this stuff out".
Working at Viewpoint, she recalls the community;  "Well, I mean, everybody will say it: the community is just amazing." Her colleagues, students and families lead her to feel really supported and she says she would feel comfortable "sitting down at almost any lunch table with kids, teachers from a different division". Overall, she says it " really is just a great place to be and it's also just gorgeous." Aside from the 105 degree heat, she says you can easily "walk outside and watch a redtail hawk circle around, or go to the ecolet and see the chickens". Viewpoint's scenery isn't the only part she likes though; "it's a physically beautiful place but it's really the community that makes it so beautiful."
…
Mr. Didden, the AP Bio, Oceanography, Field Biology and Techniques teacher at Viewpoint was interviewed about his time teaching at Viewpoint this Wednesday. 
In the beginning of his career, he said, "I originally was involved in research. I was, or actually I am a marine biologist." He recalled the negative aspects of sitting in a lab all day: "I kind of lost the passion for research, and I started teaching out on Catalina Island with Mr. Kessler and Mrs. Kessler at the Marine Institute out there." Throughout his time in Catalina, he describes "introducing students to the marine environment" and "getting them hands on with the critters". Most importantly he says that "just looking at them when they see it for the first time and the Ahh " that is sparked. From this experience, his passion for teaching began. He knew he wanted to "get involved in education, and get students in the environment and outside in nature".
His favorite part about teaching is getting to work with students. He says that "seeing that spark ignited when they find something they like, or even if they figure out something that they don't like" motivates him to continue teaching. "Working with students everyday is pretty fun", he concludes.
Specifically, at Viewpoint, he said the community-feel is his favorite part. He adds "– so even though we're a large school, it has a very small sort of community atmosphere." Seeing students everyday, having taught multiple siblings, and knowing families all contribute to the school's positive atmosphere. "I've been here 19 years now" he added, "and you know, having that long term relationship with families is just something I really enjoy".