Taylor Swift's "Midnight's" – A Patriot Album Review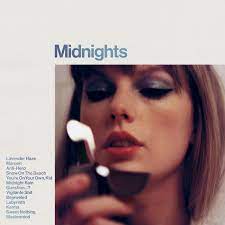 On October 21st, Taylor Swift released her highly anticipated 10th studio album, Midnights. Within 30 seconds of release, Spotify crashed due to the millions of Swifties around the world trying to listen to the album. This was only a small indication of the absolute hit this album would be, breaking the record for the most first-day streams on Spotify for an album, amassing 185 million streams on the platform. She also broke the record for first-day streams for an album on Amazon music, and the biggest first-day streams on Apple music for a pop album. This is the tip of the iceberg for the records that Midnights broke. The album sold over 1 million units in the US within 3 days of its release, with the largest sales week for an album since her own Reputation in 2017. Midnights is some of Swift's best work, with intriguing synth beats and the lyrical complexity of Folklore and Evermore that fans have come to love. This album has the potential to be one of Swift's most successful yet, making history by occupying the top 10 songs on the Billboard charts at the same time and in honor of this monumental accomplishment, I have decided to do the impossible and rank Midnights:
Snow on the Beach ft. Lana Del Ray
Reasoning: Snow on the Beach is a cute song that is an ode to falling in love in ways you didn't see coming and that is "weird but beautiful." While it is a good song, it's anticlimactic, and the anticipated feature of Lana Del Ray was underwhelming. Despite Swift and Del Ray's seamless harmonies in the chorus, many were disappointed that Lana did not get her own verse on the song. The fact that this song is at the bottom of this list shows what a great album Midnights is, because Snow on the Beach is by no means a bad song. 
Best Lyric: "Life is emotionally abusive, and time can't stop me quite like you did"
Midnight Rain 
Reasoning: I, along with most people, was a bit taken aback the first time I heard the beginning of Midnight Rain, but this song has definitely grown on me as I have listened to it more. Similar to Champagne Problems (Evermore), it tells the story of a failed relationship where one person wanted to marry, but the other did not. There is a lot of musical production on this song, and while it is catchy and fun, it doesn't really stack up to a lot of the other songs on the album. 
Best Lyric: "He wanted a bride I was making my own name. Chasing that fame, He stayed the same. All of me changed like midnight"
Labyrinth 
Reasoning: Labyrinth is a soft, low-fi song about the fear of getting hurt after falling in love again and it is a beautiful melody with great lyricism. When it comes to ranking this album, it is about splitting hairs, and this song feels plain compared to other songs on the album. 
Best Lyric: "You know how scared I am of elevators, Never trust it if it rises fast. It can't last"
Lavender Haze 
Reasoning: Lavender Haze is a song about avoiding the rumors surrounding a public relationship and just focusing on being in love. It sets the tone for the album as its opening track, playing with pop, synth, and rock sounds that are all found throughout the album. The lyricism in this song does get a little lost behind the production which is why it is fairly low on this list, but that does not take away from the great lyrics in the song. 
Best Lyric: "So real, I'm damned if I do give a damn what people say. No deal, the 1950s sh*t they want from me"
Karma
Reasoning: Karma builds on the themes of Reputation and "what goes around comes around". It is an upbeat song about karma always getting those who deserve it, and after the Kardashian and West drama where people felt karma came for Taylor, she is now friends with karma, even calling it "a cat purring in her lap cuz it loves me[Taylor]." It is an extremely interesting sound and is yet another response to Swift's haters and even though others have faded, she is here to stay. 
Best Lyric: "Karma's on your scent like a bounty hunter. 
Karma's gonna track you down, Step by step from town to town"
Vigilante Sh-t
Reasoning: This song does Reputation better than Reputation did. It is the most diverse song on the album, with a dark melody and very confrontational tone. The song starts with the lyrics "Draw the cat eye sharp enough to kill a man" and it never looks back from there, making it the most interesting song on the record. 
Best Lyric: "She needed cold hard proof so I gave her some. 
She had the envelope, where you think she got it from?"
Question…?
Reasoning: Question is a pop song that draws back to the days of 1989, with an upbeat melody and striking lyrics. She also plays with sound, having the sounds of a crowd cheering gin the background of the bridge, adding to the unique quality of the song. This song is interesting because it feels like it is directly addressing the listener while also feeling like a conversation between Taylor and a love interest. 
Best Lyric: "It was one drink after another, 
Caught in politics and gender-roles
And you're not sure and I don't know" 
Sweet Nothing 
Reasoning: This is honestly one of my favorite songs Taylor has ever written about Joe Alwyn. It depicts a simple, yet wonderful relationship despite a lot of outside noise and speculation. Through simple lyrics like "Outside their push-and-shoving, you're in the kitchen humming", Swift paints a picture of a wonderful love where she doesn't have to be anything but herself. It is such a great song whose beauty lies in its simplicity. 
Best Lyric: "Outside they're push and shoving, You're in the kitchen humming. All that you ever wanted from me was sweet nothing"
You're On Your Own, Kid
Reasoning: A famous track throughout Swift's career, track 5 is known to be the most emotional song on the album and You're On Your Own, Kid did not disappoint. Telling the story of pining for someone from childhood, only to learn that they never really cared, this song lays on the emotions. It utilizes a slow build to draw attention to the best bridge on the album, which is sure to leave you in tears when you fully understand the lyrics. 
Best Lyric: "Cause there were pages turned with the bridges burned. Everything you lose is a step you take"
Anti-Hero
Reasoning: Swift has described this song as the deepest dive into her insecurities that she has ever written, yet it is extremely relatable. Chosen as the lead single for the album, the song combines an upbeat pop backing with the gut-wrenching lyrics Swift is famous for, and has easily become a fan-favorite on the album. 
Best Lyric: " Did you hear my covert narcissism I disguise as altruism like some kind of congressman"
Mastermind
Reasoning: Mastermind is about pining for someone and planning out your every move when you see them to make them fall in love with you. No matter what, you will find a way to be with the person and it is such an interesting perspective hearing it from Swift. The lyricism is top-notch and the upbeat, catchy chorus makes the song almost irresistible. 
Best Lyric: "You see, all the wisest women had to do it this way.
 'Cause we were born to be the pawn in every lover's game"
Maroon 
Reasoning: Maroon is probably second to Vigilante Sh*t when it comes to the most interesting sounding song on the album. Swift plays with her vocal range, hitting low notes with ease in Maroon. Reminiscing on the best parts in a relationship, Maroon uses a fast chorus and slow verse to add variety and keep listeners coming back to this song over and over again because it never gets old. 
Best Lyric: "You were standing hollow-eyed in the hallway
Carnations you had thought were roses, that's us"
Bejeweled 
Reasoning: Bejeweled is a pop anthem about lighting up a room after feeling like your partner is not loving you enough. Even though you aren't getting that external love, you can still find it within yourself to shine. Swift has stated that this song was a way of hyping herself up in her return to pop music after writing folk songs for her last 2 albums, and you can't help but dance and strut around the room when you hear Bejeweled.
Best Lyric: "Familiarity breeds contempt, don't put me in the basement
When I want the penthouse of your heart"
After the original album came out, Taylor Swift announced 7 bonus tracks, titled the 3am Tracks, which are just as good as the tracks on the original album and are equally as impossible to rank, but I have to attempted to rank them anyways:
Dear Reader

Glitch

Bigger Than the Whole Sky

The Great War

Paris 

High Infidelity

Would've, Could've, Should've