Harry Styles, Los Angeles: A Fan Review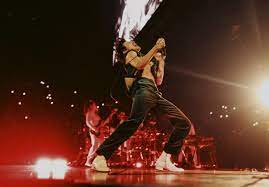 As Harry has been completing his residency tours, he has done shows in some of the major populous areas of the US. Chicago, Austin, New York  are just some of the few. Fortunately, I was lucky to have gone to Harry Styles on the 28th of October at the Forum!
It was my very first time at the forum located in Inglewood, and I was pleasantly impressed! Other than the cue lines outside of the forum, it was pretty organized and efficient for the thousands who were there. I fortunately got to experience the concert from the pit, which I was very excited for. While I was there, I heard many conversations of fans camping out in order to get the best spot. Due to me deciding against enduring the brunt of camping, I was scared for the location of my spot in the pit. However, contrary to my prediction, I somehow only got a few feet away from him! 
The saying "One Man Show" describes exactly how Harry's concert was. Although he had his band on stage, his energy and presence made the show. For the hour and 30 minute show he was able to keep his energy the whole time, interacting with fans, singing, and dancing. One thing that is so evident is his appreciation and gratefulness for his fans. He never failed to mention (multiple times) how he wouldn't have the success he has without the fans. Also, he constantly relays the feeling of pride towards his fans, with their use of "TPWK". Harry's idea of "TPWK" (treat people with kindness), started from the publishing of a song discussing all the importances surrounding "TPWK".  
Harry sang around 18 different songs, which unfortunately seemed to go by too fast. As soon as I knew it, it was 10:30 and the concert came to a close. Following this, the swarm of people caused chaos as we were all trying to exit through the doors of the forum. We followed the rush to the outside, and ran to the car which we strategically parked at the entrance of the forum. All in all, it only took us around 45 minutes to get home with the traffic.
Overall, his concert is definitely a once-and-a-lifetime experience that I hope everyone who enjoys his music will be able to go to one day. His message of Treating people with Kindness will always be relevant, as it's a theme that always needs to be restated for people to hear.