Review: 'Willy Wonka' at Viewpoint Theatre
Willy Wonka is a musical well-known to many as an exuberant trip through Candyland with an important moral taken from Roald Dahl's classic novel, Charlie and the Chocolate Factory.  The production at Viewpoint Theatre's Middle School ensemble serves up that sweetness wonderfully, with the usual dollop of charming enthusiasm that is familiar to any school production.
Willy Wonka tells the story of Charlie Bucket, a kind boy living in poverty as his large family struggles to provide for themselves.  When enigmatic candy master, Willy Wonka, announces a contest to take over his empire of sweets, Charlie is one of the lucky few chosen.  He is whisked away along with four other children to tour Wonka's chocolate factory, where they must follow the rules or endure dark consequences.  
The musical, which opened at the Carlson Family Theater on November 4th, is a perfect balance of whimsy and more off-putting moments.  One of the most notable scenes that was scrapped for Viewpoint's production was the song "Veruca's Nutcracker Suite", most likely due to its graphic ending, where the titular character is ripped into pieces by Wonka's nut-shelling squirrel team.  Despite the omissions, the musical still kept its measured pace as each child learned their lesson through a surprisingly grim song and dance from the numerous Oompa Loompas, comprised of the ensemble.
There were a select few performers that really surprised me.  Julian Thicke ('28) was a complete star on-stage as Charlie Bucket.  He perfectly embodied Charlie's boyish enthusiasm and danced with a sense of grace that could only be expected from the most natural of performers.  
Another show-stealer was Marcus Tanksley ('27), who stepped into the shoes of Wonka himself.  Onstage, you could see his initial nerves  melt away as he rested his hands on his staff and assumed a characteristically-aloof gaze over the audience.  Despite being the titular character, his stage time was limited as much of the plot was jam-packed with candy-themed gags and character songs.  Still, Tanksley made the most of the second act, portraying the balance between kind and eccentric with a certain, endearing charm.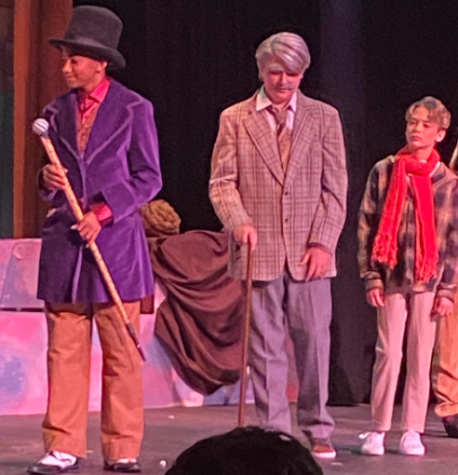 Besides the two mentioned above, I found myself impressed by the comedic timing of the entire cast, which far exceeded my expectations.  The audience couldn't stop laughing during any of the grandparents' scenes.  And when Grant Kaltman ('28) strutted on stage as the gluttonous Augustus Gloop, there were pratically sobs of laughter from the rows behind me.  Kaltman told the Patriot he was "very nervous" about making his debut in a leading role, but that "it was so hard to see with the lights that it was fine".  When asked how he felt the next performance would go, his face lit up in a smile.  "Even better," he said.  "Even better!"
I must admit that though I am no expert, nor critic, of middle school productions, I couldn't find anyone who wasn't giving their all.  The energy throughout the night was steady; whether that was from the amplification of the orchestra, adrenaline, or just pure talent, I couldn't say.  Most likely the latter.  
Lisa Roskowinski, director of the show, would agree.  "I set the bar high as I believe that even middle school students are capable of more than most people think," she said in an interview.  Given the high quality of Viewpoint's theater department, I wasn't expecting something awful, but it really was a wonderful surprise just how much engagement there was throughout the two-hour performance.  The bar was set high and it was met.
I also wondered how such a stunt-intense show such as Willy Wonka could be translated into a middle school production.  Though lacking in the tech to fully execute some of the stunts, this proved to be no problem, as the audience laughed and clapped at the gags, such as a dummy resembling Gloop being pulled through a chute, and electronics enthusiast Mike Teavee being "shrunk down" into an action figure suspiciously resembling Superman.  The simplicity of these gags proved to be charming on their own, and the rest of the set, elaborately painted, did not disappoint.
Another endearing aspect of the show is that it wasn't just the kids onstage who had a chance to shine.  Members of the Upper School's robotics department, Hadas Ben-David ('24) and Devan Kumar ('24) designed a gobstopper-dispensing machine that entertained audience members in the lobby.  Viewpoint's Founders Club handed out Playbills at the entrance.  It's a wonderful display of how passion for the arts has carried itself all the way to the Upper School and an indication of how some of these cast members can potentially revisit these memories through other means in high school.  
Daniyar Ali ('24) was another Upper School student who took the spotlight on opening night.  He was one of a select group of students who played alongside professional musicians in a live orchestra conducted by choir director Carrie Dietsch, the first live accompaniment in a Viewpoint production since the Covid-19 pandemic.  "I'm so used to being on stage singing, but this time I'm the accompaniment, and it's really made me appreciate how much music there is in the shows, just underscoring the dialogue, or scene changes that people don't usually notice," remarked the violinist.
Well, it's clear that they're capable of selling out shows, but Willy Wonka has proven to also be a school-wide success and good fun for the whole family.  I thoroughly enjoyed myself and could feel the joy in every performer onstage, in parts both big and small.  Willy Wonka is a story about the beauty of imagination and creativity, and Viewpoint Theatre has once again brought joy onto campus with a production that certainly embodies those values.