L.A. Zoo Lights Review: Animals Aglow
In search of something fun to do over Thanksgiving Break, I found myself driving to Griffith Park last Saturday at 6pm to revisit an old haunt: the L.A. Zoo.  But I wasn't there to look at the animals.  Instead, I came for the lights.
More specifically, I came to experience L.A. Zoo Lights: Animals Aglow, the holiday light show that opened November 18 and will run after zoo hours through January 22.  This is the zoo's first year partnering with Tianyu Arts & Culture, Inc. after several years with another company and a pandemic hiatus.  As shown by the thousands who turned out last Saturday, the spectacle is back and better than ever.
There are two entry times (6 pm and 8:45 pm) when guests can enter the park.  Even though I arrived 15 minutes before 6:00, I was greeted by around 2,000 people already in line. These numbers will likely subside after Thanksgiving Break, but I was at the front of the line within 15 minutes, so it didn't matter anyway. 
 Parking in the main lot is free, but spots near the front are hard to find.  Prepare for a walk through the maze of street vendors.  When I attended, there were also many food stands in and out of the park, offering treats such as churros, glazed almonds, and, surprisingly, cocktails.  Hot cocoa for the kids and something stronger for the parents.  Well, as one passerby remarked, that's "very L.A.".  
For some context, the last time I went to L.A. Zoo Lights was around 2015, and it ran on a much smaller scale than what's displayed now.  The event has evolved from neon signs and lights wrapped around trees to colorful, larger-than-life Chinese lanterns arranged into scenes straight out of a fantasy. They ranged from tiny tree frogs to a rainbow peacock that puffed up its tail feathers, and all of them were intricately hand-painted.  Pretty much the entire hillside was used, and even areas that didn't have animals were illuminated by plant life, which was a nice touch.  Daylight Savings Time has rendered Griffith Park dark and murky, but the picturesque scenes flooded every corner of the zoo in rainbow light.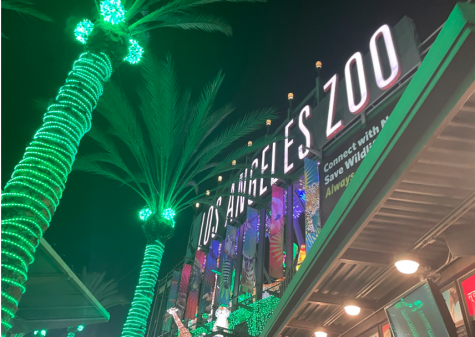 It took me 90 minutes to walk through the entire experience.  I never felt rushed because the park closed at 10.  Guests entering at the later entry slot might find themselves more pressed for time than I was.  There are a couple side paths, but the experience mostly goes straight up the hill and back down the same way.  Besides the animals themselves, there are plenty of photo opportunities, a "Twinkle Tunnel" of lights next to the World of Birds show center, and a carousel charging $3 a ride (the line was intimidating, so make a beeline if the carousel is your priority). 
It's no surprise that they've made it to the L.A. Zoo: Tianyu's high-quality work has been shown in zoos and festivals from Seattle to Miami.  I talked to a staff member who told me that a personal team had flown out from China to be on standby.  The entire event seemed to be running smoothly, and I never saw any malfunctions or anything that stood out. 
The only real issue I had was the crowd.  Having avoided the zoo since before the pandemic, I wasn't prepared for the sheer amount of shrieking children darting around, getting in your path, and crowding around the lanterns to take pictures.  It really was a Disneyland experience.  The traffic was flowing two ways, but it wasn't bad and there was space to step aside and let people pass.  If you hope to get up close and personal to the lights, you're probably gonna have to wait out several photogenic toddlers first.  It is a super cute sight, however.
That being said, the zoo did provide plenty of accommodations.  There were no lines at the restrooms and there was a quiet zone with food vendors nearby.  The zoo will also offer a special, noise-reduced night for those with sensory issues on November 30, as part of their pledge for accessibility and inclusivity.  There were some benches, but not as many as I would've liked for an uphill hike. 
If you're looking for fun holiday activities for the family or you're interested in lighting tech, L.A. Zoo Lights is perfect for you.  I was very impressed by the jump in quality from previous years.  But as a teenager who is easily overwhelmed by hordes of screaming children, I would advise planning for a quieter day so you can get the most out of the semi-pricey experience ($14 in 2017, $34 now).  If you do plan to visit on weekends or holidays, don't expect a serene walkthrough. 
L.A. Zoo Lights: Animals Aglow runs November 18 through January 22, 2023, rain or shine.  Tickets are available at lazoo.org.