First Eruption in 40 years at Mauna Loa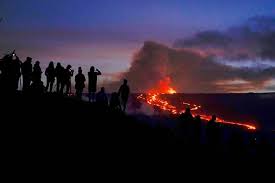 Hawaii's Mauna Loa, the world's largest volcano erupted for the first time in 40 years on November 27, 2022. The lava flow isn't expected to harm the population, but "lava flow is unpredictable", the United States Geological Survey agency warned.
Mauna Loa is located 13,697 feet above sea level– to put that into perspective, it covers nearly half of the island and is one of the few volcanoes on the Hawaiian island to possess a threat level measuring "very high". Pele's hair, thin glass fibers resulting from the volcanic gas and ash were a predicted outcome of the eruption. Since 1843, it has erupted 33 times– the last time being 1984, when lava flowed close to 5 miles of Hilo, the island's biggest town.
The Hawaiian Volcano Observatory is currently monitoring the volcano and sending updates on its activity. They say the eruption is expected to remain in the Northeast Rift Zone, but all residents living on Hawaii Island are encouraged to prepare by reviewing Hawai'i County Civil Defense information. Lava from Mauna Loa has continued to flow towards the Daniel K. Inouye Highway, and is expected to reach the highway. If the highway were to close, commuters and transportation of goods would be halted. Only one fissure, fissure 3 is still active– there is no longer any activity at the summit of the volcano.
The area was opened on Thursday– with new issued safety concerns for patrons taking that route. A two-car crash happened on Thursday night, another two-car crash the next Tuesday, and a four-car crash the next day, Wednesday.
These lava spectators are being urged by officials to not wander from their cars because of the dangers of the lava as well as car accidents.