Brittney Griner Returns to the United States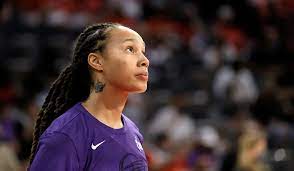 After months of harsh, isolating detention in Russia, former WNBA star Brittney Griner has come home to the United States. Simply put, she was used as a political pawn in a larger geopolitical conflict between the United States and Russia, in light of the Russian aggression in Ukraine. 
In February, just a week before Russia launched its "special operation" and invaded Ukraine, Griner was detained in Moscow after being found with a 1 gram cartridge of hash oil. While the Russian government has heavily criminalized drugs of any kind, Griner's arrest gave Russia the ability to use her as a pawn for negotiation and potential hostage exchanges. Her charge was trumped up, resulting in a 10 year prison sentence of hard labor in a penal colony, Russia's work camp incarceration system. The aggressive, extremely lengthy sentence given to Griner indicates Russia's lack of intent to back down, especially regarding the war in Ukraine. Brittney sat in jail for months, unable to talk to her family, little access to a lawyer, and didn't even know where she was going when transferred to a penal colony for hard labor. Russia used Griner to show the U.S. they weren't afraid to continue their cruelty, nor were they going to indicate "weakness" by releasing her. 
But finally, the prisoner exchange was made in the United Arab Emirates, swapping Griner for convicted Russia weapons trader Vitcor Bout after he was in U.S. custody for the past decade. The saga was concluded with Brittney's arrival to the United States in San Antonio on Friday, where she is starting the long path towards reintegration after a harrowing ordeal. While we don't exactly know how this will play out in the larger picture of the Russo-Ukrainian war, or any possible implications this deal may have, this certainly signals the importance of negotiation. Speculation about possible exchanges has gone on for months, after the Biden Administration publicly offered an exchange for Griner and Paul Whelen, another American incarcerated on Russian soil, though those initial propositions gained little traction.
We may not know all aspects of the deal, since many former hostage-negotiation details were made behind closed doors, but nevertheless, Griner's family and Americans around the country must feel an incredible amount of relief.  President Joe Biden reassured citizens around the nation, tweeting, "She is safe. She is on a plane. She is on her way home."