Cobain: A Life and Legacy Fit for Rock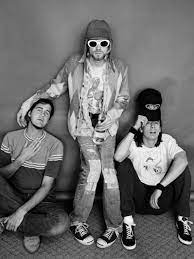 *Disclaimer: This article discusses the topics of suicide, self-harm, and depression.*
If you were asked to name the Legends of Grunge, a few musicians might come to mind – Eddie Vedder of Pearl Jam, Chris Cornell of Soundgarden, Layne Staley of Alice in Chains – but there's one undeniable king of the genre who took the world by storm and put grunge into the ears and hearts of many: Kurt Cobain of Nirvana. His deep, ragged voice and pounding guitar electrified teens and bewildered parents (as any good music should). Sadly, he was only around to experience this magic from 1989, when Nirvana's debut album 'Bleach' came out, to his death by suicide in April 1994. Despite his tragic death, Cobain's legacy has continued to shape music for decades and be a defining sound for several generations. 
The musicians and music that blossomed out of the end of Nirvana are arguably just as culturally significant as Nirvana itself. Foo Fighters, the band created by Nirvana's drummer Dave Grohl, has been alive and pumping out fantastic rock n' roll since 1995. Songs like "Everlong", "The Pretender", and "My Hero" (Grohl's tribute to the deceased singer) are all-time classics that will live on just like "Smells Like Teen Spirit". Grohl was able to take a terrible experience and make something worthy of Cobain's legacy.  The Foo Fighters have been enormously successful, selling out concerts all over the world for well over two decades and providing grunge-rock for multiple generations of listeners. 
Another artist that thrived thanks to Cobain's legacy was his wife, Courtney Love. Love and her band, Hole, already had one album out before Cobain's death (which gained little to no traction), but their second and most popular one came out just a week after he passed. The songs' intense grunge-punk sound plus Courtney's name already in the news catapulted the album, titled Live Through This. Courtney Love's music career took off outside the shadow of her husband, and songs like "Celebrity Skin" and "Violet" are well known today.
Though we lost Kurt Cobain so early in his career, he still immortalized Nirvana. The band only had three albums, plus a couple of compilation albums and an acoustic collection (MTV's Unplugged in New York). The band never had to fizzle out or try to navigate the changing alt music scene in the 2000's; they will always and only be an icon of the 90's. "Smells Like Teen Spirit" and "Come as You Are" remain haunting and unique because there aren't decades of follow-up songs that failed to duplicate the raw energy and impact of Nirvana's early work. Here's a good example of how their perfection is crystalized in music history: Apple Music has a section for bands and musicians that show their "essential albums"; basically, the best albums that also perfectly showcase an artist. Under Nirvana, all of their albums (Bleach, Nevermind, and In Utero) are considered essentials – it simply goes to show that there are no bad pieces of work. No "meh" era of Nirvana, no skippable songs, no crappy touring year. Essentially, Kurt Cobain died at his peak. 
Kurt defined and embodied grunge's dark, angst-ridden vibe. His death delved even further into the grunge theme of giving hippies and the older generation the finger – it said "If I'm unhappy with the world, then I'll just leave it." As the Foo Fighters song "My Hero" says, "Kudos, my hero/Leavin' all the mess." In fact, Cobain's death fits with Nirvana's message, too: Forget you, we'll do what we want. You want more music? Well, too bad. Even Cobain's style has stayed in culture the last nearly thirty years – flannels and mid-length, undone hair are grunge staples, and nearly every teen over the past two generations has owned a Nirvana smiley face shirt. When you thought grunge, you now thought of depression and self-loathing (not to mention loathing everyone around you) – you thought of Kurt Cobain.
Plenty of other pop culture icons have experienced this phenomena of dying before their art dies out – Freddie Mercury of Queen, rappers Tupac and Biggie Smalls, and the actors Marilyn Monroe and James Dean, to name a few. All of these artists could have had long careers with mediocre music and movies later on, their fame coming to a close a few years after their peak leaving them as once-stars, now irrelevant. Consider how Madonna, a global superstar and cultural icon in the 1980s, is slowly fading into obscurity. Will she be remembered as a fashion icon, the Material Girl who dominated the early days of MTV, or for her failed attempts at trying to stay relevant for the last 30 years? 
Nirvana is an iconic band that emerged during an iconic era of music. While Kurt Cobain could only see the hold his music had on the world for a short period of time, his art stayed iconic for decades and even brought more great music into our lives. Kudos, our hero.
Note: The Patriot does not condone suicide or self-harm in any way, shape, or form, and does not applaud the death of Kurt Cobain. This article is not meant to glorify or encourage self-harm whatsoever.
If you or a loved one is experiencing thoughts of or inflicting self-harm/suicide, please call one of these hotlines. You are loved, appreciated, and vital to this world.
1-800-273-TALK (8255)
1-888-628-9454 (Spanish version)
800-TLC-TEEN (852-8336)