Opinion: The Best (and Worst) of the Grammy's
Thousands gathered last Sunday at the Crypto.com Arena in a celebration of music's best and brightest.  February 5th marked the 65th Grammy Awards, and millions tuned in to watch the glamor and drama unfold.  Here are some of the best, worst, and most shocking moments from the 2023 Grammys.
Best: Glamorous red-carpet looks
One of the most anticipated parts of any awards ceremony is the red carpet roll-out, where stars stun (or shock) in their increasingly dramatic outfits.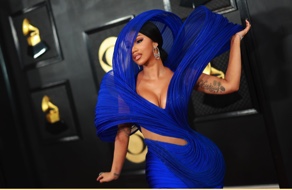 Cardi B stunned in a sapphire-blue dress from Indian designer Gaurav Gupta Couture, whose designs such as this one hit the runway a week ago.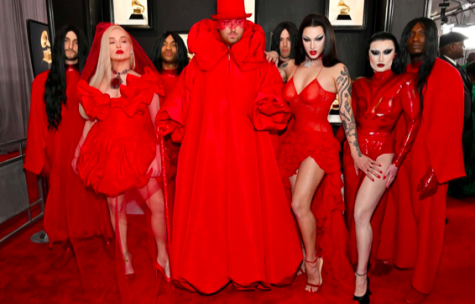 Sam Smith and Kim Petras shocked with a fiery entourage of famous drag queens to the carpet, while draped in Valentino and Victor Costa.  The duo took home the Grammy for Best Pop Duo/Group Performance for their song "Unholy", which they later performed in equally scorching attire.  Petras' win marked the second time a trans woman has recieved a Grammy award.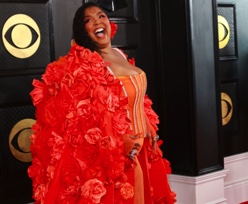 Lizzo brought the color to the red carpet in a eye-catching piece designed by Dolce & Gabbana.  She was accompanied by boyfriend Myke Wright, who also looked classy in a lux tuxedo.
Worst: Cringeworthy jokes
Awkward jokes about world events at awards shows…we love to hate them.  Trevor Noah returned for his third year hosting the Grammys, and the junior slump was showing.  The comedian threw out jokes about Chinese surveillance balloons, Harry Styles' sex appeal, and Prince Harry's lack thereof, which elicited lukewarm responses from the audience.  
We get it: the Grammys isn't about the comedy.  But the energy was lacking throughout the night, which even the most pointed of jokes from Noah couldn't fix.  Madonna even called out the lethargic nature of the crowd during her speech: "Y'all are going to sleep over here!"
Best: Beyoncé shows up late to the party–then makes history
As her smash hit "CUFF IT" won Best R&B song, Beyoncé was nowhere to be seen.  "The downside of hosting the Grammys in L.A. is the traffic. Beyoncé is on her way!" quipped Noah, stalling for as long as he could.  
Nile Rodgers, collaborator on the song, stepped in to improvise and accept the award on her behalf.  "When I got called to play on this song, it was the most organic thing that ever happened to me. I heard the song, and I just said, 'All right, I want to play on that, right now,'" he commented.
Luckily, Beyoncé got her chance to speak later that night.  In a historic moment, "Renaissance" won Best Dance/Electronic Album, making her the most accoladed artist in Grammys history.  She took the lead over Georg Solti, a Hungarian-British conductor, with 32 wins.  Beyoncé was visibly emotional as she took to the stage amidst cheers and a standing ovation.  In her speech, she honored her late Uncle Johnny, who inspired some of "Renaissance"'s key lyrics.  "He's here in spirit," she said.
Worst: Mediocre performances
While some performances such as Smokey Robinson and Stevie Wonder's soulful collaboration lived up to expectations, others were less enticing.  
Despite an earlier Grammy win, Harry Styles seemed almost lethargic onstage as he performed his hit song "As It Was".  He missed several opening notes, opting to sing in a lower key, and repeatedly motioned to his earpiece.  He even stumbled on the rotating stage before breaking into an abrupt, jerky dance break.  The performance was strangely disjointed and Styles definitely seemed like a fish out of water on a formal stage, instead of with his adoring fans, with whom his performances are famously much more uptempo.  
Sam Smith and Kim Petras have already been flooded with criticism and controversy over their hit song "Unholy", so much so that Madonna, the queen of scandal, was selected to introduce them: "If they call you shocking, scandalous, troublesome…you are definitely onto something.", the legend commented.  Regardless of whether or not their song merits the criticism, the Grammys performance was convoluted and unmemorably staged.  Smith donned a horned top hat and took center stage, although the monochrome lighting and swarm of dancers made it impossible to see them.  Meanwhile, Kim Petras strutted in a cage and made faces at the awkwardly-angled camera…but didn't do much else.  
Best: Moving tribute to musicians we lost in 2022
Kacey Musgraves kicked off the annual tribute with an emotional, acoustic cover of Loretta Lynn's "Coal Miner's Daughter".  The country music superstar passed away in October.  Rapper Quavo took to the stage with an emotional rendition of "Without Me" to honor fellow Migos member Takeoff, who was killed in a tragic shooting last November.  Then, a trio of Sheryl Crow, Mick Fleetwood, and Bonnie Raitt closed out the tribute by honoring Fleetwood Mac member Christine McVie with their cover of "Songbird".  
Other stars honored included Jerry Lee Lewis, David Crosby, and Stephen "Twitch" Boss.  The tribute was a touching moment in the midst of the night's glamour and excitement and was a reminder of just how fleeting music's gift can be–while the industry changes into a new wave of millennial and Gen-Z hits, the greats who shaped the 60s through 80s have begun to pass on.
Wow: Surprise award wins
In what was considered one of the biggest upsets of the night, Bonnie Raitt took home the Song of the Year award for "Just Like That".  The multi-genre singer, whose album of the same name claimed several other Grammys, appeared to be in shock at her win.  Many fans took online to complain about a seemingly "inexplicable" win.  It's possible that younger members of the Recording Academy split the vote between pop hits like Lizzo's "About Damn Time" and Doja Cat's "Woman", leaving the older demographic to rally behind Raitt.  Or perhaps this win symbolizes a country resurgence during an era of music dominated mainly by algorithm-busting pop hits.
Many fans were also shocked at Harry Styles' "Harry's House" winning Album of the Year over predicted favorites like Beyoncé's "Renaissance" and Kendrick Lamar's "Mr. Morale & the Big Steppers", which would've been the first rap album to win since Outkast's "Speakerboxxx/The Love Below" in 2004.  "Harry's House" had also been a favorite, taking home the award for Best Pop Album earlier that night, but the win was considered an upset to some.  
Styles returned to the stage to give his speech, during which he emotionally claimed "this doesn't happen to people like me very often", a comment that sparked controversy online and even within the Viewpoint community.  "This always happens to people like him–cis white men," remarked Yeni Denloye ('24).  
Despite all the mishaps, snubs, upsets, and controversies, the show appears to have been a success.  Nielsen reported that over 12 million viewers tuned into the ceremony–the show's best ratings since 2020.  Perhaps this will begin a post-pandemic resurgence of the Grammys and a return to what it's known as best: a celebration of music of all kinds.
Who did you want to take home the big awards?  Let us know using this poll!
https://forms.gle/g3sknic5PYTZW25D7