LAUSD Teacher's Strike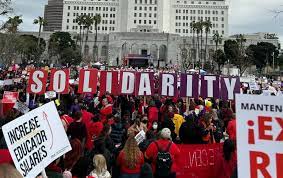 LAUSD faced a worker's strike.
Around 60,000 LAUSD workers struck from March 21-23, 2023. Of this group, 30,000 are bus drivers, custodians, teacher aids, cafeteria workers, and more school support members. 35,000 teachers will be rallying with them, causing hundreds of schools to shut down for the next few days.
What's the reason for this strike? The workers demanded a 30% raise and $2 per hour equity wage raise. The district's initial response was a 15% overall raise and a raise in their minimum wage to $20 per hour, but the worker's union has not budged. Superintendent Alberto Carvalho has stated he is working with the union and LAUSD to come to an agreement, but no discussion has stopped the strike – its first day was March 21st, with around 420,000 students out of school. The union refused to have a face-to-face discussion with the superintendent and instead asked for a fact-finding panel, which has not yet been set up.
This is not the only strike LAUSD has suffered recently. In 2019, LAUSD teachers went on strike to demand smaller maximum class sizes, less standardized testing, a 6.5% raise, more nurses and guidance counselors, and accountability for charter schools. I was in 5th grade at an LAUSD elementary school in 2019 (shoutout to Encino Charter!), and I walked alongside my teachers in the strike. I even wrote the front-page article about it in my school's newspaper, the Encino Explorer.
After a week of striking, the union and district came to an agreement: a 6% raise, smaller maximum class sizes (39 students per class in grades 4-12, and 27 max in TK-3rd), 50% less standardized testing, more accountability for charter schools, 80 more librarians over the next two years, and more nurses.
Although I loved my public school experience, one of the unfortunate aspects of LAUSD is the underfunded classrooms and workers – teachers constantly have to buy their own supplies and deal with subpar classrooms and campuses. The district never provides enough to make the schools as strong as they could be, and it's left up to individual teachers and workers to create a happy, safe, inviting environment for the next generation of students.
While we are so lucky to be in a safer, better-equipped school than most students in SoCal, it's important to take the time to appreciate the people we have. Even though our Viewpoint staff aren't in the same position as LAUSD workers, we need to treat them with the same respect and gratitude that LAUSD students are showing their striking support right now.
2023 strike:
https://www.latimes.com/california/story/2023-03-20/lausd-strike-and-school-shutdowns-set-for-tuesday
2019 strike:
https://www.cnn.com/2019/01/23/us/los-angeles-teachers-strike-day-7/index.html