Caitlyn Clark and Angel Reese: How Trash-Talk Led to Record Views of Women's March Madness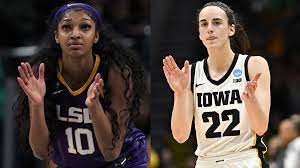 March Madness is one of the most popular NCAA championships, with fans around the country always counting down the days until the tournament starts eager to see if their brackets pan out. That is, the men's tournament of course. For years, the women have fought for better and more coverage and opportunities equal to the men. One of these situations was highlighted during the 2021 tournament that took place in the bubble, where the NCAA infamously gave the women one singular rack of dumbbells, when the men had a full-fledged weight room. When Oregon player Sedona Prince shone light on the issue, the NCAA remedied the situation by giving the women a weight room as well, but it exposed a greater issue, they simply do not care about the women's tournament as much as they do about the men's tournament. The women's tournament was not even associated with the famous March Madness branding until 2022. -Yes, 2022. However, every year, the women have been making strides in views and attendance, constantly breaking records and getting their names out there. The 2023 tournament was absolutely a historic one, shattering records and opening doors for women. 
To start off, fans consumed over 4.7 billion minutes of Women's March Madness content, which is an ESPN record. The Elite 8 round of the tournament drew a record average of 2.2 million viewers, and the Sweet 16 also broke records, averaging 1.2 million viewers per game. While these records are great, they pale in comparison to the 9.9 million viewers who watched the final game on ABC and ESPN, becoming the most-watched women's college basketball game ever. The tournament also had record-high attendance, with 357,542 fans coming to the tournament across all rounds. The 2023 tournament was historic and could mark a new era for women's collegiate basketball. 
The historic turnout of the tournament was largely boosted by the stars of Angel Reese and Caitlyn Clark from LSU and Iowa, respectively. Both players were phenomenal on the court, with Clark posting the first 40 point triple-double in March Madness history (mens or womens). However, their fearless styles of play gained them national attention, as videos of their "trash-talking" circulated social media and received millions of views. While some praised them, others criticized their passion, saying that their actions were unsportsmanlike. When Caitlyn Calrk was asked about this, she said that men have always had trash talk, and nobody turns their head towards that, but they are putting down women for doing the same thing. And while it's hard to admit, she is not wrong. Men are often praised for their "trash-talk," whereas women are constantly put down. Either way, the good and bad publicity surrounding the rivalry between Reese and Clark helped contribute to the record views for this year's tournament. Female athletes are constantly trying to find ways to break through the glass ceiling and be viewed as equal to their male counterparts. So, whether that be from trash-talking or not, they are appreciating the eyes that are now on them. Clark hopes that this year sparked a period of change in women's collegiate basketball and that people will continue to tune in next year. Clark will return to Iowa for her senior year, chasing the National Championship she came just shy of this year. 
Basketball fans everywhere are finally starting to understand that the women's tournament is competitive, engaging, and entertaining. The success of this year's tournament should cause some changes in broadcasting and media coverage, as this year's coverage was solely done by ESPN. The championship game was aired on ABC, but almost all of the other games were on various ESPN networks, with most only able to be accessed on the ESPN app. In comparison, the men's tournament is covered by TNT, CBS, TBS, and TruTV. These are all major networks, making it easy for casual fans to find the games. You have to go out of your way to put on a women's game. This year proved that society needs to do better when it comes to supporting female athletes, because when the spotlight is put on them, they shine just as bright as the men.