Stand Your Ground Laws Protested After Multiple Shootings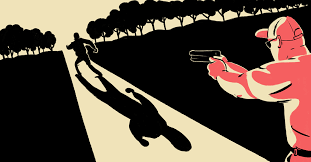 On April 13, Ralph Yarl– a 16 year old black teenager was shot in both his head and arm ringing the doorbell of the wrong house to pick up his two younger siblings. After two shots to the head, he was shot yet again while laying on the ground. The SIXTEEN year old Ralph Yarl is alive and currently fighting for his life in the hospital. The homeowner and shooter was a white man in his 80s, who has since turned himself in to local authorities, and has been released on bail less than 2 hours later. The shooter admitted to shooting Yarl through the glass sliding-door without exchanging any words. Yarl has recently been released from the hospital, and his family says he has a "long road of recovery ahead of him". The shooter claims he was scared of Yarl's size– the teen is not even 6'', and weighs nearly 170lb. Kansas City's mayor agrees that Yarl was racially profiled by the shooter. If the shooter had been a black man, there is a significantly higher possibility that he would have been arrested– versus what happened to the white shooter, who was released on bail after just 2 hours. Ralph is a junior in High School, who loves music and plays the bass clarinet. His friends, family and community love him and say that he has a bright future ahead. Ralph Yarl didn't deserve what happened to him, and justice should be served.
Payton Washington and Heather Roth, ages 18 and 21– along with other Woodlands Elite Cheer Company cheerleaders were walking back to their cars when Roth accidentally opened the door to the wrong car where Pedro Tello Rodriguez Jr. was sitting in the passenger seat. Upon the realization that it was the wrong car, Roth and her friends went to their own car, which Rodriguez approached. The girls rolled down the window, and Rodriguez opened fire on them. While the bullet nearly missed Roth, Washington was hit by two bullets. This led her to have to get her spleen removed. The shooter then fled to his house, and was arrested by police soon after. 
These shootings evoke the greater question of how Stand Your Ground gun laws have impacted us as a society and need to be replaced with stricter gun laws– and a stricter enforcement of them. As society reaches the point of a greater divide in political parties, many of the arguments are turning into moral issues, rather than political ones, and it is important that we take a step back to redress the civil rights embedded within many of these arguments. These issues can also influence greater questions over the relationship between individuals and government, and furthermore, why individuals should obey the law– what are our definitions of a safe and stable society? Well, first of all, we can only develop a safe and just society if we have a majority that agrees on what that means. Our perception of what is just should be defined by us as a collective, rather than corrupt government systems. 
With the election approaching in 2024, we can see the development of two main campaigns; the Biden (for Democrats) and Trump (for republican) parties, with Williamson (following President Biden) and Haley (following former President Trump). Although these parties both have a guaranteed collection of votes from their own sides, the issue of intraparty fractions.