How Much Water is an Almond Really Worth?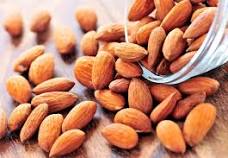 As popular as almonds and all of their products are, many people don't realize how much their agriculture impacts the water conservation issues of the arid environments they're grown in. When one California almond's water footprint equals almost 6 days worth of drinking water for a healthy adult, there's ample evidence that it's time to search for substitutes and solutions.
People love almonds! They're nutritious, easy, healthy snacks that come in seemingly endless forms, what's one thing not to love?
The water consumption is a pretty good reason. Did you know that a single California almond has a water footprint of 3.2 gallons? Or, did you know that almond agriculture uses ~13% of California's developed water supply? In case you didn't know, we've been having major water shortages and droughts since the 1920s! California is the world's primary producer of almonds, constituting about 84% of exports, yet our drought conditions create extra strain and incentive for extensive irrigation practices, especially in the dry central valley where our almonds are most often grown in (they rot in the humid coastal zones)! Unfortunately, even with the shift towards drip irrigation, which uses significantly less water than flood irrigation, almonds still require these vast quantities of water.
Beyond just plain almonds, the nuts are often converted into products like substitute milk, which require more almonds, and therefore water, than many realize. On average, one half gallon of almond milk requires 38 almonds, which doesn't appear to be a lot until calculated for water footprint. According to the 2018 calculation of 3.2 gallons of water per almond, one gallon of almond milk would require 244 gallons of water, accounting for only the almonds and nothing else about the process. That's a 1/244 ratio!
What can we do? Other nuts and oats, like peanuts, cashews, and rolled oats require significantly less water to produce and can be used in just as many ways. Where almonds require 3.2 gallons of water per nut, peanuts use only 0.2 gallons (that's 1/16th of the water)! Below is a graph highlighting more nuts and their water consumption in comparison! According to this, cashews use ~20% of the water almonds do! That means that instead of your typical almond butter or snack, cashew and peanut butter are a much more drought-friendly alternative. Additionally, oats are much friendlier alternative to almonds for milk, requiring about ⅙ of the water per pound. It's important for consumers to do their part in alleviating this problem, and switching away from products with such harmful agricultural practices.