Trans-Women who defied and define the 20th century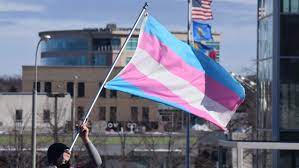 On May 2, transgender cyclist Austin Killips won the Tour of the Gila Women's Cycling Contest in New Mexico. Killips, 27, won by 89 seconds against runners-up Marcela Prieto and Cassandra Nelson. She also won the "Queen of the Mountains" climbing award.
Killips is the first transgender woman to win a woman's cycling event. She has been cycling since 2019 and also competes in cyclocross.
"I love my peers and competitors and am grateful for every opportunity I get to learn and grow as a person and athlete on course together," she said on Instagram after the win.
Unfortunately, Killips has faced a lot of backlash as a transgender athlete. This isn't new for transgender people – in fact, the history of hate against trans women goes back centuries. So, in both celebration of Pride Month and recognition of the discrimination trans women face, here are three important trans women from the 20th century that helped to bring trans rights and gender reassignment surgery to the public.
Lili Elbe
Lili Elbe, born Einar Wegener, was a Danish painter born in 1882. Lili discovered her love for women's clothing after posing as a model for one of her wife's – Gerda Gottlieb – illustrations. She began identifying as female and dressing femininely around 1912 while living in Paris, where she could openly act as Gerda's sister-in-law. A friend suggested she go by the name Lili, which she soon started using. Through the 1920s, Lili Elbe identified as a woman under this name.
Lili faced serious body dysmorphia, which led her to suicidal thoughts. She planned to commit suicide in May 1930 before learning about Magnus Hirschfeld, a German sexologist who performed sex change surgeries. Her transition began in the Hirschfeld Institute for Sexual Science in Germany that same year.
Lili had three surgeries done over two years by two different doctors, Erwin Gohrbandt and Kurt Warnekros. Lili had her sex and name legally changed to Lili Ilse Elvenes along with her marriage annulled in 1930 – by this point the German and Danish press were covering her story and much of Germany was fascinated. The last name "Elbe" was a pseudonym used in the Danish paper Politiken. After her three surgeries, Lili went home to Dresden where she met art dealer Claude Lejeune. The two began dating and planned to marry – Lili also had hopes of having children with him. In 1931, she had her fourth surgery in Germany, performed by Erwin Gohrbrandt: a uterus implant and construction of a vaginal canal, with the hope of allowing her to carry a fetus and give birth. This was one of the first surgeries of its kind and extremely dangerous – in addition, the chance of it working properly was low. The first transgender woman to have this surgery was Dora Richter, who had it merely weeks earlier, though her cause of death is not linked to the procedure.
Unfortunately, Lili's body rejected the transplant and an infection started. She died of cardiac arrest on September 13, 1931. Her story was turned into a movie in 2017, titled The Danish Girl. Lili's life brought attention to gender-affirming surgeries at a time when they were widely unknown – though she did not survive her transition, it made strides in the surgeries of thousands of trans women going forward.
Christine Jorgensen
Christine Jorgensen was a popular singer, actress, and advocate for trans rights from the 1950s-80s. Born George William Jorgensen in 1926, she was raised in the Bronx, New York and fought in the army during WWII as a clerical worker. She worked as a photographer in New York after her service, and during this time learned about gender reassignment surgery. She began her transition by taking estrogen pills, and planned to travel to Sweden to receive the surgery – however, she did not tell anyone she knew about her plans out of fear she would be persecuted. During a stop in Copenhagen, she met endocrinologist Christian Hamburger, who helped her get hormone replacement surgery. A year later, she went to Sweden to have her originally planned gender reassignment surgery. In a letter to her friend after her transition, Christine wrote she was no longer a "shy, miserable person", but was now in "marvelous spirits".
Unfortunately, a different letter that Christine had written to her parents informing them of her transition had been leaked to the New York Daily News, who quickly published a front-page article. When she came back to the U.S. she was immediately under paparazzi.
Though Christine had originally stated after transitioning that she wanted a peaceful life, she was unable to find a stable job after the U.S. learned that "Ex-G.I. Becomes Blonde Beauty". She began a career as an actress and singer, making TV and movie appearances and performing in theater. In the 70's she had a recurring act where she would perform in a Wonder Woman costume. When Warner Brothers forced her to stop playing the character, she created her own superhero: Superwoman.
Christine became a spokesperson for transgender people, publishing a book in 1953 titled The Story of My Life and an autobiography in 1967. In the autobiography, she discussed her struggles with depression and suicide but explained she worked through it because "the answer to the problem must not lie in sleeping pills and suicides that look like accidents, or in jail sentences, but rather in life and the freedom to live it."
Christine got engaged to her boyfriend Henry Knox in 1959 and the couple moved into a house her father built for her in Massapequa Park, New York. Due to anti-gay marriage laws, Christine and Knox could not marry because her birth certificate was labeled as male. The couple split up, but Knox still lost his job when his company learned of his engagement to Christine.
Christine moved to the Chateau Marmont in California in 1967. She spent the 70's and 80's touring colleges and speaking on transgender living and rights; she was popular and known to be witty, confident, and direct.
Christine Jorgensen died at 62 in 1989 of lung and bladder cancer. Her activism changed how the American public viewed transgender people in the mid to late 19th century, and she remains a huge inspiration for transgender women today.
Marsha P. Johnson
Marsha P. Johnson was a self-described gay drag queen and transvestite known for her participation in the 1969 Stonewall Riots. Marsha was born Malcom Michaels in New Jersey, 1945 – she was one of six siblings in a poor Christian family. She enjoyed wearing dresses as a young child, but was bullied by the boys in her neighborhood. One 13 year old boy raped her, which was traumatic and pushed her away from gender experimentation; her mother was also against homosexuality, so Marsha's hope of being openly gay disappeared. That is, until she moved to New York at 17 with only $15 and a bag of clothes.
Marsha waited tables and made friends with prostitutes while living in Greenwich Village – this new life gave her a window into her sexuality and gender, and she felt more liberated than ever before. She chose the drag name Marsha P. Johnson, stating the P stood for "pay it no mind" (referencing her gender). Together with trans activist Sylvia Rivera, she started the Street Transvestite Action Revolutionaries, a gay and trans activism group stationed in New York.
Marsha couldn't afford the expensive costumes seen on most drag queens and instead wore long dresses and robes. She also liked to play on the line between masculinity and femininity, wearing wigs and makeup with pants and men's shirts. When she wasn't in drag, she was usually in casual men's clothes and often sang in the NYC Gay Men's Chorus. She performed with several different drag troupes, including NYC's Hot Peaches and the East Coast's Angels of Light.
Though it is what she is best known for, the accounts of Marsha's participation in the Stonewall Riots are heavily disputed. The Stonewall Riots were a week-long set of protests for gay riots held in and outside of the Stonewall Inn, a gay bar in Greenwich Village. Most sources, including her own, state Marsha was not an instigator of the protests, but joined late into the first day. Some sources claim she threw a shot glass into the bar, while others say she threw a brick at an officer; many state she dropped a brick onto a police car from a lamppost the second night of the riots. Marsha participated in several pride parades and peaceful protests in the 70s, and during one told a reporter and TV camera, "Darling, I want my gay rights now!" She and Sylvia Rivera also opened the STAR House, a shelter for queer youth they paid for with the money they made from sex working.
In the early 90's, Marsha was diagnosed with HIV. She became an activist for AIDS, performing in shows with buttons for Silence = Death and AIDS Coalition to Unleash Power (ACT UP).
Marsha P. Johnson was found dead in the Hudson River in 1992 – mere weeks after a string of activism she had participated in to fight NYC's gay bashing. Though her death was originally ruled as suicide, the case was pushed to be opened again to investigate it as a possible murder, especially since she was found with a huge wound in the back of her head and had never been suicidal. The case has been reopened several times during the 2000s to investigate.
It's incredibly important to remember that though LGBTQ rights are more discussed and supported today, it took centuries of protests and violence against the gay community to get here. In addition, political leaders like Ron DeSantis are actively working to bring us back to the 20th century and strip the rights of queer Americans. We must make an effort to fight as members and allies of the community during this Pride Month so that all of our future Prides can be focused on celebration and safety rather than a need for change.