Animals without wings learn to ride and fly
If you have an Emotional Support Animal (ESA), you could make national news, as people debate whether certain animals should be permitted aboard aircrafts and what regulations should be implemented. Currently, ESAs, or animals that medical professionals officially say provide emotional benefits, appear to be easy to register. The U.S. Service Animals' website says you can register an ESA in three quick steps: enter the animal's information, receive your ticket of registration, and receive the certificate and photo ID in the mail. People reading these simple steps might be intrigued to tiptoe around the rules, and they have.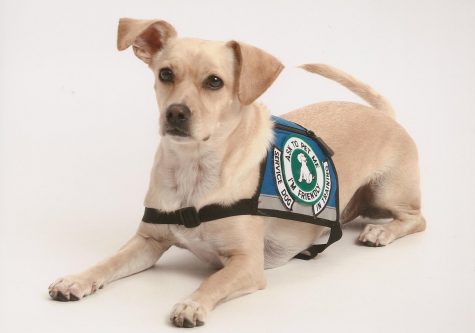 From trying to get an emotional support peacock on plane to walking an emotional support alligator on a leash at schools and senior centers, owners of emotional support animals are going beyond the typical expectation for what an ESA looks like.
Celebrity comedians, including Ellen DeGeneres and James Corden, took the emotional support peacock headline and turned it into comedy.
"There was a woman trying to get on the plane with a peacock the other day. They didn't let her on, thank God, but I mean, not that she doesn't need it," DeGeneres said in her comedy special Relatable. "Clearly, she's crazy… I don't know what the requirements are to get an emotional support animal but I don't think they are too tough."
DeGeneres may agree with the new crackdown on ESAs by Delta airlines. According to the airline's website, Delta's new restrictions on ESAs include no pitbulls, one animal per passenger, no puppies or kittens under the age of four months, and no ESAs on flights longer than eight hours. The restrictions are due to "passengers [that] have tried to board with a menagerie of emotional support animals, including snakes, squirrels" and, of course, the infamous "peacock," according to NBC News.
Delta Airlines further clarified on their website which other animals are prohibited from entering their aircrafts. The list includes, but is not limited to: hedgehogs, ferrets, insects, rodents, snakes, spiders, sugar gliders, reptiles, amphibians, goats, and animals with tusks, horns or hooves.
People with mental health conditions have the right to have legal ESAs, but it becomes a different story when the pet boards a pressurized air cabin. Animals that are not highly trained may become anxious which could result in bighting, barking, and/or hissing.
You may also find an Emotional Support Animal in your next Uber ride. The Uber website specifies the terms to follow in order to bring such animals in the ride service's vehicles. The popular ride-service app, does not allow its drivers to reject passengers if they have a service animal, including ESAs. Drivers that refuse to drive a person with a service animal will have their driving account permanently deactivated. Furthermore, if the rider's service animal makes an "accident" involving bodily fluids, the rider will not be charged for cleaning fees until the animal's third incident that requires cleaning, excluding shedding. Highly trained emotional support animals can be beneficial in cars and on planes as they can soothe extreme anxiety, something that many people experience when using transportation.
Luckily, airlines are still accommodating of emotional support animals, despite the exotic pets people try to fly with, and do allow people to board with their furry friends. Regulations, however, are appropriate to place on ESAs in order to protect other passengers and make the flight as pleasant as possible. Even with regulations, some people will continue to push airlines to let them board with their beloved animals. The next headline you see on the topic may very well be, "When Pigs Learn to Fly!"
About the Writer
Amanda Swartz, Editor-in-Chief
Amanda Swartz ('20) is a co-Editor-in-Chief of the Viewpoint Patriot. She is a member of CORE, Viewpoint's community service honor society, Model UN,...