Viewpoint Soccer's unsung hero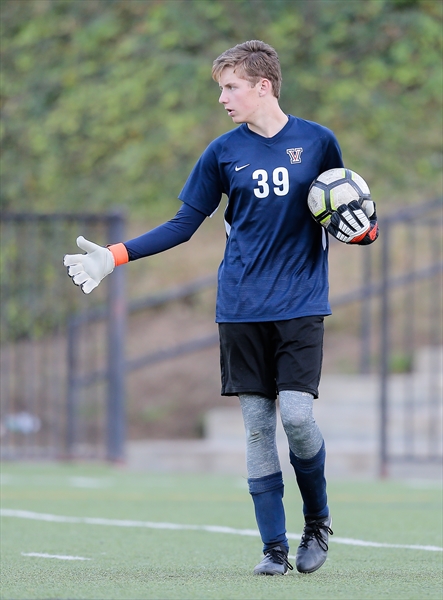 Some people say that the goalkeeper is the most important player on a soccer team. They are tasked with the job of keeping the opposing players from scoring. Whether it be putting their body on the line or commanding the defense, everything the goalkeeper does is an integral part of the team's success. Unfortunately, to those who are casual supporters of the sport, the goalkeeper is often the most overlooked position. The attention is always targeted towards the flashy strikers or the fast wingers.
This season, Viewpoint Soccer made playoffs for the first time in school history. Although the team was praised by many, the unsung hero of the season was goalkeeper Colin Beazley ('20).
After being a part of Viewpoint's soccer program for his entire high school career, Beazley has grown into one of the marquee players on the team.
"Without him Viewpoint soccer would have no chance, he's our last line of defense and we know we can always count on him," co-captain RL Spivak ('20) said after a stellar performance and a game saving stop against Crossroads.
It is a no brainer that members of the team appreciate Beazley's contributions to the team. "At this point, it is about getting the fans that come to the games to understand just how important he is to the team," Timmy Hill ('22) said.
Although disappointed by Viewpoint's defeat at the hands of Laguna Blanca, Beazley still believes that there is a lot of positive to take away from the recent season.
"In the last three years, I've watched this team grow, and we've really bonded," Beazley said. "Next year's our year. This year was an amazing stepping stone, and we return enough players to be special next year."
It is apparent that Viewpoint players and coaches appreciate Beazley's contributions to the team. You will never hear him in the hallways bragging about his aptitude between the posts, but as soon as you show up to a game and see him make one of his trademark diving stops, it will be clear just how important it is to have a shot stopper like Colin Beazley in goal.