Wild Weather: Atmospheric Rivers in California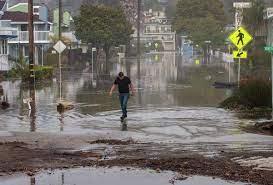 Whether you're in San Francisco or typically sunny Los Angeles, the weather this week has been anything but normal for Californians. Last week's "bomb cyclone" signals the potential conseuences of changing weather due to climate change, especially since the rain has yet to cease. The driver of this weather event can largely be attributed to the three year long La Nina we've been in, a weather phenomenon responsible for cooler and wetter weather conditions.
 Bomb cyclones typically occur after they form in the winter, when cold and warm air masses collide. This particular storm is reponsible for dumping more than 5 inches of rain on Sacromento over the past week, with California's snowpack being the third highest in 40 years.  
Rain and snow are sparse and infrequent in the state, exacerbated by on-going drought and constant risk of wildfires. However, the sheer volume of rain falling in such a short period poses serious risk of flooding or mudslides. 34 million Californian's were on flood watch, about 10% of the U.S. population.
The National Weather Service has cautioned Californian's, issuing advisories for continued power outages, hurricane-force gusts of wind, flash floods, and mudslides, with President Biden issuing a State of Emergency due to the storms. 
While Califoria has been drought ridden on and off for over 20 years, the state is scarred by these droughts and wildfires, meaning that the land can't soak up as much rain as is falling. This can greatly increase the risk of mudslides and flooding in areas that simply can't take anymore water. These atmospheric rivers are now being called "high impact events," where a moderate risk, level 3 of 4, of excessive rainfall covers millions of people from San Francisco to Los Angeles. The San Lorenzo River rose over 14 feet in only four hours, and the city of Santa Cruz has experienced serious flooding, and is at risk during storms later this week. El Dorado, Monterey, Santa Cruz, Santa Clara, and Alameda  issued evaluation warnings and recommendations. 
After the storm threat shifted to Los Angeles on Tuesday, Governor Newsom is cautioning Californian's to "stay vigilant." With 17 Californian's dead from the storm, this is truly no laughing matter. As the climate continues to change, leaving California's landscape scarred by fire and drought, these events may become more frequent. But by being prepared, severe damage can be prevented.